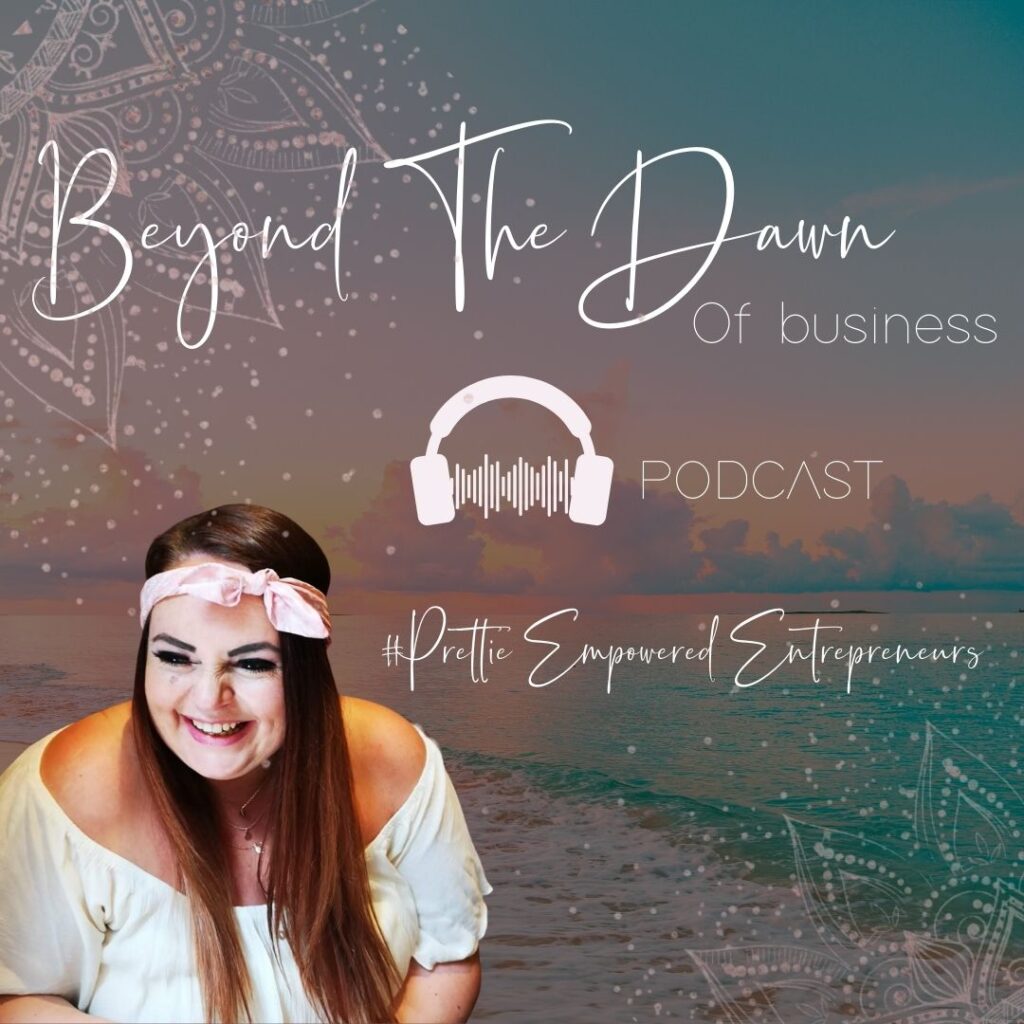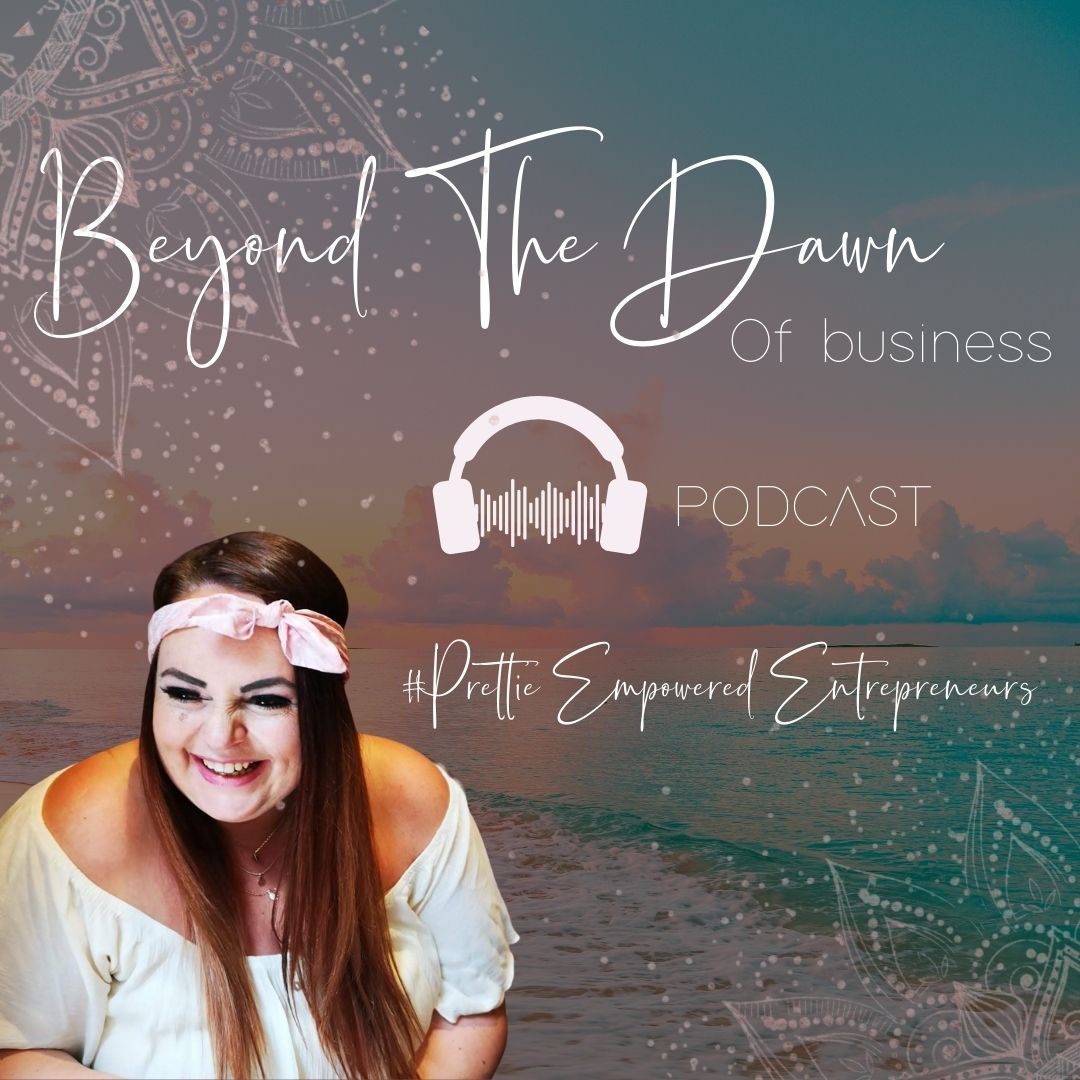 Interview with Fran Excell and Abi Hugo
Welcome my darling Pretties to our Beyond to the Dawn of Business podcast for pretty empowered female entrepreneurs.
It's time to step into your power Pretties! Lift each other, support the squad and choose a life filled with the autonomy and freedom to live your dreams.
I'm your host Dawn Beth, the Owner and Founder of Beyond the Dawn digital business brand and agency. My coffee is hot and my eyelashes are on, so we are ready to go!
I want all female entrepreneurs to feel empowered, supported and loved, and given the opportunity to really connect with other female powerhouses in the industry, in a way in which we lift each other up and inspire each other, and take care of each other in ways that we have previously not seen in business, possibly, listen to us waffling on about business and life our families, and our mindset, our financial goals and our freedoms and our autonomy. And what we hope for the world and what we hope for you, what we hope for ourselves, and all of the things that we've experienced through this very colorful journey of becoming successful female entrepreneurs and digital business owners.
If you want to know more you want to learn more, you want to be in a connected network of soulful heart centered female entrepreneurs to help guide and support you in your journey, and sometimes you still understand what it is that you're going through whilst you're building your empire, then you are in the right place. To listen to this podcast visit our channel on Apple or Spotify and remember to subscribe for future release updates!
This weeks episode is an interview with two of my amazing business friends Fran Excell and Abi Hugo.
We talk about a range of important things that impact female entrepreneurs. From what it means to be a female entrepreneur, building a business that meets your needs, doing the things in the business that you love right through to how to handle trolls.
Dawn Baxter 
Welcome to this episode where I am speaking to the beautiful Fran Excel and Abi Hugo, my personal friends and female entrepreneur powerhouses. Thank you so, so much for joining me today ladies. I really appreciate you guys coming on and having a girlie natter with me today. I really wanted to kind of just have a conversation really free and easy about life as a female entrepreneur. So as you get it going, I'm going to ask a question, and then maybe if we go to Fran, and then to Abi, and then just see where the conversation goes so they can support my listeners. So my first question to you guys is to ask, what does it mean for you being able to be a female entrepreneur I know that's quite a big question, but it's one of the things that people that I work with quite regularly struggle with that foundational why that they need to keep in mind maybe possibly on the days when things aren't going quite well on those days where things can be block overcomers or struggles. So what does it mean to you ladies, I am going to really enjoy listening to your answers.
Fran Excell 
Oh goodness. So, I mean we were kind of talking about this earlier, it's this whole idea for me of being in control of your own life and your own destiny and your own choices and, and all of these things that I think, you know they're the reasons that we set these businesses up right and then very quickly we've created ourselves, our own job, again, and something that was this passion or something that was something that, that meant a lot to us becomes a bit more of a shackle so it's the ways that you have to be so conscious, and the personal growth as well that comes with it regardless of what you do, obviously with what I do is a huge part but you kind of have no choice but to grow as a person and really start to question the way you look at the world, and start to look at things in a completely different way and say actually, what is it for me. What, instead of looking at what everyone else wants and what everyone else says I should do or should be or should have and the way things are supposed to work is really becoming a business owner makes you look at what you want. And we don't do that we're kind of not trained as a society to go through life, but thinking about this are we? 
Dawn Baxter
Now, it's like we're trained almost, what can we have, or what can we get or what is the best we can do. and that measure is often restricted.  
Abi Hugo 
I think for me it all started. So it all started when I got pregnant so basically I… we struggled having Henry. Initially, we were trying for a few years and multiple miscarriages and things like that. So it's, it's, when he I was really detached from my pregnancy like I until he was in my arms, I just didn't really want to believe I was pregnant in case anything went wrong. And then when he was there, I was just like happily on maternity leave being paid to cuddle my baby and then as it started to going back to going back to work I was like, I don't know if I can do this, I don't want to be on a train  – I used to work in London for a bank and I was I don't want to be on a train for an hour, backwards and forwards and things like that so it gave me that freedom and you asked about why and for me it was always always been about my kids which is like, I know we've both spoke about this, all three of us have spoke about this before, like this. Why does it always have to be money, that, that is the big goal for me it was time with my children, hitting a certain financial goal obviously every time you do it's amazing but I always whenever I get sort of like overwhelmed by all it's, it was never about money for me it was about being able to be at home cuddling my kids whenever you know I didn't wanna have to think, oh, Henry's been sick during the night. I have to call my boss and ask if I can stay off work with him, and things like that and that is my ultimate like being able to just be in control of my life is exactly what Fran said being able to be in control and be there. 
Dawn Baxter 
Yes I feel that. 
Abi Hugo 
When I need to. 
Dawn Baxter
Because I love the fact that this gives you is the opportunity to really design everything not just your business. So, I've looked recently at my model, and I've restructured it, I've restructured it so that it works better for my family. I've restructured it so it makes, it makes more sense to me. For my personal growth which you've absolutely right when you said that before Fran because, for instance, I went and had a walk on the prom yesterday for an hour by myself, and I was listening to podcasts and I was out in the sunshine and fresh air. My, my little pedometer, got to 7000 steps which is massive for me because some days I don't even get to 1000 steps, which is awful to admit but, I mean, there are these little things that I want to do for me that I wouldn't be able to do it would always be some sort of negotiation, and it's either a negotiation with money or it's the negotiation with time, but I would always be last on the pecking order. And if I'm totally honest, even with the first few years of the business. I was still very much at the bottom of that pecking order because I think you do. When you first starting up you do all of the things all the time and it is maybe not quite as clear and easy as it looks when you're very established, yeah. So, how do you guys feel in terms of what it is that you're doing in your business at the moment because I introduced you as established, esteemed female entrepreneurs which you totally are. But I mean, you're probably two of the nicest women I have met in the industry and I just absolutely adore the both of you. And I know that you've come from where you are now, that didn't just happen overnight. Right?
Fran Excell 
No, and this is something actually funnily enough, the next podcast episode coming out is kind of all about this it's like there's so much at the beginning of your business, where you're so quick to Jack in the job, but actually when you can give yourself that time to play that time to catch up with yourself because your brains got to catch up with you. This is a big, big, big mental shift, same as what we were talking about a minute ago like society teaches us to have to be a certain way and the way that they're supposed to be. It takes a huge amount of work on yourself to allow your, your brain and your beliefs and your nervous system to essentially catch up to a new baseline of safety, essentially, and allowing yourself that beginning year or couple of years, whatever it might be of playtime, I call it. And one of the things I'm always teaching to clients is, learn to experiment, because when you let, when you experiment you let go of an attachment to the outcome, you kind of, you get to just see what happens without a judgment on yourself and I feel like at the beginning of your business you need that without listening to all the noise of people telling you where you should be. Yeah, I think the playtime, it's like, when I first started my niche was totally wrong, because I was trying to talk to people where I had to essentially convince them that they had a problem that was solvable, they knew they had an issue but they thought that was the way life was supposed to be it was originally women in corporate careers. Who knew they wanted more but didn't, didn't know that that was even a possibility they don't know, people don't know that you can retrain your brain and rewire your nervous system and all of these things. So you got to give yourself that playtime is a big one for me. And that's certainly what I allowed myself to do and have to shut out all the noise of like, Oh, we've been doing this for x amount of time so you should be here. 
Abi Hugo 
I think for me it's listening to too many voices at once, when you first start out, you think you need to be doing everything all the time, and I found myself in a, like a cycle of procrastination by education would be the best way of saying it like I used to sit and listen to all the podcasts read all the books. And I'd be like, yeah I'm gonna do this I'm gonna create this funnel I'm gonna do this and do this and this and this, and then I just ended up getting completely overwhelmed and doing zero of it because I didn't. I think I've learned that you just if you can focus on one or two things at a time, get really, really good at it, and then move on to the next thing because you've got so you've automated the process in which you do that one thing, really, really well. It frees you up to have more brain capacity or energy to do the next thing, really, really well. And you've kind of got to block out, it's yes it's good to listen to all those things, but it can it's like, especially if you listen to, like marketing things it's like well you need to be on tik tok, you need to have an email list, you need to do a podcast you need to do all these things and then you're like yeah I can do that I should do that that is totally what I need to be doing. And I have them all on my vision board and then I was like well I haven't done any of them now. So, yeah, trying to just focus on one thing at a time, definitely, definitely for a good amount of time, not like a week or so and then bouncing. It's like give it the time to get the results.
Dawn Baxter 
Yeah.  I'm a real bugger for giving myself with an achievable to do list and then berating myself for not achieving what was never actually even possible. And that is something that I've, I've struggled with throughout my entire time of being an entrepreneur, and I kind of give myself the power of, you know my superpower is ideas I'm an ideas man, and I could come up with a business idea and a business model, and in 10 minutes I've got this kind of, you know matrix sale vision of what this business will be in five years, 10 years, 20 years time, but that never stops so then the problem with that is, and I'm so guilty of this and even now if my team listened to this podcast but they're going to giggle because we have so many sub brands we have so many small arm projects within the brand within the brand within the brand, so much so that it took me nearly four weeks this year just to do a simple document of our whole business structure to include everything, and I need to stop doing that. And I think that's one of the things like what Abi was saying is actually don't try to do all of the things at once just just to kind of like master one area which is the advice we give on social. When we give, social media marketing advice our advice is pick the one that you're most comfortable with, the one where your ideal client hangs out the most, and get comfortable with it, get used to it and master it before you try to take on a secondary, or a third or a fourth representation online, make sure that you've got that one down. But when it comes to ourselves and our businesses, and I think sometimes that's because of comparisonitis like we look at really established people in our, in our world in our, in our niches in our industries, and think in order to be like them, we must have all of the things right.
Fran Excell 
Yeah, but with remembering that, that we're not looking at the whole flippin story. It's actually got to be a bit savvy in this and this is why I'm always saying you've got you've got to make the unconscious conscious because if you don't, you're going to get consumed by all these things that you're going to look at someone and say well, that is reality, that is life, and we know that's not true. We know that people don't talk about the years it took to build their businesses or the mistakes that they made, and all of these different things that we go through the pivots that they made. And I feel like people are starting to get more honest about it and people are starting to be more savvy, that what they're looking at isn't the finish isn't isn't where it started. And it's that whole idea of not comparing your first or 10th step to someone else's millionth you know.  
Abi Hugo 
There's a book that I read quite early on in like my startup the entrepreneur journey are still on Mat Leave I was still being paid and such so it was quite nice. And it's, it's quite like a girly book in one way, it's called How to be an overnight success by Marie and I'm gonna get this wrong but like I've had to actually Google the name Hatzistefanis. And basically, she, she said she'd like to start the book she's like I woke up and I'm on a plane and going to New York, launching my product line and things like that. And she's like, but what you don't realize is this is 10 years in the making, like, it looks like in media suddenly she's blown up. She's everywhere. I think that's just a really good, like representation, and it's like actually yeah, no one sees or the baby steps because we're not advertising them. We're not displaying all those like hard nights on social media. We're just playing highlight reels, which I don't like but, you know, I think people need to do better, right. Yeah, we, we feel uncomfortable with it right like we don't know what we're doing so why would we tell people that we don't know what we're doing and that we find it hard, but actually the more vulnerable you can be. I think sometimes that plays in your favor, especially when you are on social media because people can see it and they relate to that and then you know they like and know you better.
Dawn Baxter 
Agree, agree, totally agree. And also I think it's good to be able to say that, where you are now and what you're going through now. I have been through that, and there is a way through that stage, like I love speaking to my clients when they say to me Dawn I'm doing 60 hour weeks, I don't seem to be getting any traction, and then, you know, a few weeks or months down the line it's like okay so I'm getting sales, and now I need to think about this, and I can almost step by step and I know that, you know, it's not the same for everybody you haven't got a roadmap, it's not one size fits all, but you can kind of see a generalized step by step of I remember when, in order to get all of those orders out. I had to do an all nighter. I remember though that time where I had to ask my mom to have the kids over the weekend because just working, Saturday and Sunday this week is necessary for me to not lose everything. And when you get to a stage, and I really enjoyed this about last year when I stayed out in Spain for the two months that I did during Second lockdown. I loved the fact that I could honestly say, I am only working this morning and then I'm going and spending my afternoon in the beach, but don't for one minute think that this is how it started because it did not like the whole of 2018 I absolutely trashed friendships and relationships, I'm not gonna lie because people just did not see me and there was no COVID there was no lockdown. I couldn't hide behind the fact that we weren't allowed to be together, social interactions was happening that year, I just was not a part of it. And what I have now is standing on the shoulders of that person, and I couldn't have got where I've got without that, without that kind of work and I'm not suggesting that anybody should not sleep in order to work because it was a bad practice and like I say when it comes to it I was way down the bottom of the pecking order. But I think for those people who are really trying and not necessarily seeing immediate, you know viral responses and sell out launches and all of the things that they may be consuming as part of their, their peers and, and who they aspire to be, that doesn't necessarily mean that you can't be successful that you won't be successful, whatever that version of success looks like for you.
Fran Excell 
Absolutely. And I think that's so important because sometimes, like, that's where you learn from people who are further ahead than you so you can not mistake, not make the same mistakes that they made, and not have to go through the things that they went through when they didn't know better, because that's, that's the thing it's that whole idea of like two heads are better than one or three heads are better than one, because there's always that other perspective that you won't have thought of for yourself. Right, it's like, there's so many ways to for one of a better term skin a cat, right, you need to have those other perspectives but in a controlled way where you're not kind of outwardly just listening to a million different voices telling you this is the exact step and the exact strategy that you need to do is make a million bazillion squids. It's actually leaning on people who are where you want to be, or that you resonate with in that way, where you can say please help me and tell me what you did, but in relation to me and I think that's so important you mentioned earlier, Dawnie about there is no one size fits all, we are not cookie cutters, everybody's life is different and what's right for one person isn't right for another you have to get something that's going to be tailored around you and your life and what you want for your life but you also have to know what that is and what that looks like for you
Dawn Baxter 
And it's like what Abi was saying earlier, that actually we have been put in a situation where we often use finances as our metric of success. When in fact success can look like something entirely different to different people. And I think all of us have got a shared passion in being able to almost bring – pull on that thread of our people right like we love to explore that side of people when we're working with them, and it's something – I love money and I'm not going to suggest for one minute that I don't appreciate how successful my business is I just want to put that out there – but at the same time, there are so many intricate, what's the word motivations for me internally that you could not just measure my success based on my books.
Abi Hugo 
I think 100% I think we've all said that before, haven't we, it's just, it's actually, what do you set your goal as when you first start your business and like I said for me that was my kids. I keep getting sidetracked by, again, love money I'm grateful for what it's been able to do in my life. But when I start feeling guilty that I've not hit this milestone or this milestone, it's actually going back and going, that's okay because that was never my ultimate goal. It was to have freedom within my family
Fran Excell 
You get to shape your life around, like what's happening in the moment sometimes like you get to go do you know what, I actually I'm not feeling it today, I'm going to go down to the beach, and then I'll pick it up and look at your, your own schedule and make decisions for yourself, so you never have to feel like you're being denied something because even if you think you have to deny yourself it, you probably don't. You just need to shift a few things around. So you get to live a life that, that's so much more in line with who you are.
Dawn Baxter 
So here's a question for you ladies. I know, because we know each other very well now. I know that the both of you have come from different kinds of levels of visibility. What is the right word maybe comfort. Because, I mean, people always find it quite strange, from my point of view if I tell people that actually I'm a secret introvert, and because I quite visible. And I'm on live, and I'm on podcasts that I'm doing guest speaking, and I literally do everything other than live speaking, because I've just never been interested in doing that it might change in the future but it just hasn't opened till now. People expect that you have to be an extrovert, to be able to be visible, and to be a loud voice in the industries and online. How do you guys feel about?
Fran Excell 
Oh goodness this is a big one.  I have strong opinions about that.   I'm what I call the Brexit extrovert. So when you whenever you do the personality profiles and things like that I come out at 48% introvert and 52% extrovert, which means I have to work with both of those elements of my personality right? It means that as much as I can do things like this and give me energy. 
Dawn Baxter 
Abi you consider yourself to be an introvert right?
Abi Hugo 
Massively yeah and it was a really scary thing. When I first started showing up on social media, to put myself out there actually, it felt weirdly it felt safe Instagram felt safe because that's kind of my happy place, because I was just at the time I was just posting pictures I wasn't doing everything I was just, and I could post when I wanted to post you know when I felt most talkative throughout the day. And then, as I grew obviously you learn all the things you need to do more, you need to be on stories you need to, you know, show up, or things like that and genuinely for the first six months to a year. I didn't like, show my face I didn't have my name on my account, I didn't. I just did text stories, shared other people's content and I still grew but then I saw a massive growth. When I started showing up and being me. But when I first did it, it was a little story for you. I'd been nominated so I have an interiors account so I had, I've been nominated for an award. And I knew that if I just put on a some text to screen story to say hey I've been nominated for this award. Please vote for me. There'd be no emotion behind it is just like okay why. So I put on this like black and white filter with a beret, it was like French filter with red lips, black and white. And I came on and it made me feel comfortable, which is, I always say if it makes you feel comfortable just do it and it did. My mom didn't even recognize me in it but it got me confident, comfortable enough to actually say, Please can you guys vote for me, I'm really, really excited by this. And then it was just like practicing, and I saw I hated stories, I would probably have felt sick doing this, or teaching live anything like that, it would have absolutely scared me and that's not to be mistaken for like introvert, extrovert obviously that's like confidence. And I do get my energy from being alone. Just practice makes perfect, because now, weirdly, I love stories and I will happily chat away on them for ages, but it doesn't. I also get the fear so if I don't show up for a few days, then I'm like I have to force myself to show up and get comfortable getting so getting visible, it's, it's practice it's just practice, and now I'll do it and I'm like, the person, two, three years ago, she would have like, been in it sounds pretty weird to say it, but in awe of me now because I just wouldn't have thought it would ever be possible.
Dawn Baxter 
I love that.  I can imagine that people who are listening to this right now, who know you Abi will probably find all of that as a bit of a surprise considering you are an Instagram celebrity. You know, we, we come to you for expert Instagram advice, we come to you the expert influencer, insights, and all of the amazing super power skills that you have and from the outside you do make it look super frikkin' easy man. You make it look like you know you just you just, you know, get out of bed in the morning you know exactly what to post you're very, very confident and excellent content creator, both in the visual video space. And with with images and, you know, showing up live, and it is something that I think people don't necessarily again going back to that comparisonitis realize that there are ways in which you can get to that stage. Obviously we all have our natural talents, we all, I mean, Fran, your amazing reels this week have just gone off the charts right. We all have these like internal skills of course natural skill, but you, you can harness your natural skill and you can, and that's the great thing about content creation, Is you can harness that natural skill and wield it to your will, so that it actually do something that serves you within your business. And there's a way that you can create that for yourself or you just have to maybe start with that self belief in knowing that you can do that and that there are ways that you can nurture that within yourselves and I love when we support people supporting that in people and kind of like pulling on those threads and giving those aha moments that allow that to unlock.
Abi Hugo
I think what I was going to say is, it's that whole thing of getting visible of stop trying to put yourself in a box. if I have to do this and I should do that. It's understanding,  making the decisions around who you are as a person and where you're most comfortable where you can actually start to grow. Because it comes across, when you're not comfortable so if you're trying to do something on a platform where you're like, I hate it here. That's why I'm not I'm not massive on Facebook I never really posted as a personal profile so it makes sense that I don't massively want to do that for my business, whereas Instagram, I'm really enjoying doing reels now, and it's like, it's just starting to do the things that feel more natural to you and then it doesn't feel like work, and that's why with the podcast as well it was just so natural to me because it fits my personality. And this is way before this is I kind of started back at the very very beginning of 2018 when, not that many people have podcasts, And it was this. The thing that was a bit more risky because it was that I don't know how to grow this I don't know, I don't know what to do and I actually didn't pay anyone to help me grow or anything like that I just put out there what I wanted to put out there because I was like and I always did it with the mentality of if this helps one person that's listening, then I'm happy with that. And it's like, I think we spoke about before, like I was stuck on about 30 downloads a month for months. And if you're not enjoying what you're doing in that stage when you're growing, it can be incredibly soul destroying. But knowing that that consistency and that determination and continuing to do something that you genuinely love doing, and that he would do for free even if it only was one person listening as long as they got some sort of response from it, you're going to keep going and now I'm literally without ever trying to do anything without it all organically I'm always in the top business charts, I'm normally in about top 15 for entrepreneurship in the whole of the UK but also in Canada in the US, in Australia, I've got a massive audience in Australia who knew!  I love my Aussie clients we have pajama parties. It's that whole thing of like you have to do what you enjoy doing, because otherwise it's always gonna feel off and it's always gonna feel like you're trying to push water uphill.
Dawn Baxter 
Yeah, and it does wonders for your mindset does wonders for your personal fulfillment, when you can recognize the things that actually. Yeah, they might be business practices and they may be something that you can add into an internal infrastructure or strategy but at the end of the day they come from a place within you like within your heart, within your passion, and that's why I think so many people start hobby businesses that turn into passion projects that turn into actual really serious contending businesses, you know, it's something that's actually quite beautiful when you look at it in that way.
Fran Excel 
I think that's the thing I was gonna say it's like when people clients come to me and they're like, do I have to do this, do I have to do that, or you know, at the moment Reels is such a big thing and do I have to point to the screen and, you know, have text appear and it's like, no you don't have to do any of that, what let's find what you are comfortable with and tap into that and, and create content around what you do enjoy doing because you don't even need to be but yes it helps to be on camera but you don't need to be on camera we can find ways for you to create content that's impactful and meaningful and gets you in front of the people you want to get in front of without feeling embarrassed by what you're doing.
Dawn Baxter 
Yeah. Yeah, and it's super important for people to just know that that level of comfort that you're at right now when it comes to visibility, might not be huge right now but that like your business experience, like your confidence in yourself, your self belief it all grows with you like it's an evolution, it's not. I always say it's a marathon not a sprint. And it's not something that you can just get to a destination and be like, okay, now I'm successful, that's how it is, when in fact actually the journey, the journey in itself is beautiful when I think about where I was this time two years ago. And what that woman felt like of what she wanted. And then who I am today and how I almost manifested, the person I am today based on what I wanted and then reverse engineered that back to where I was, is mad and then, now obviously there's another person in my head over the next stage, but I'm very very happy and fulfilled as I am, now it's exciting, now is like you said, Fran is playing with the possibility, opportunities, rather than actually feeling under any kind of worry or stress, and that to me is just a beautiful, beautiful gift and I want everyone to feel it. 
So the other thing I wanted to speak to you guys about is trolls because we had a really interesting conversation, and I know that when I, we kind of covered this in audience attraction but a lot of the time when I speak to my clients or even the ladies in my free group. One of the things that is a massive block for visibility is the fear of judgment, it's the fear of being trolled, it's the fear of really putting yourself out there in a way where you're kind of putting yourself on a silver platter for scrutiny. And I know that both of you are in really visible spaces right now, you do have massive audiences, and you kind of are in that place where my, my clients and my pretties would be possibly scared to be so what's it, what's it like being that visible. And what happens when you get a troll?
Abi Hugo 
So that used to scare me, it massively. But if I'm very honest, I was saying this earlier, I would have maybe one troll every three to six months with a fairly large audience at the time I had 30 – 35,000 followers. So, and that's not to say that if I'd been made something a bit more contentious I might have had more, but in my niche that was it, and normally it be, I'm dyslexic So, normally, it'd be someone trolling me about my spelling. And the way I used to deal with that. Maybe it's wrong, maybe it's right but what I would do is get my followers to rally around me, I would share that I would block out the name and stuff like that but then the people that didn't know me would be like, you know I'd get moral support from them to be like ignore them, ignore them and that helped me so I pulled on my community whenever it made it really impacted me and, you know, I know it's only spelling but it impacted me because of like childhood stuff of being told I was stupid. So that was my biggest trolling thing, my audience has grown massively. And so the trolling has grown as well. However, I think I've had to get a bit of a thicker skin. And I still kind of do the same thing but I make light of it with my audience. My followers, the people that do love me. And again, get that support from the people that are already around me. I kind of have to question why the people are saying what they have, what they say. Like I said earlier, I'm in the interiors niche DIY niche. I'm not really doing anything contentious I'm posting pictures of my house online. And if people feel the need to comment on that, however I was saying to you guys. Most of them, it's the different decor tastes fine, we'll move on from that.
Dawn Baxter 
Yes, because you do a lot of your own building, and I want to say DIY but DIY almost devalues what you do. You know because DIY is what anyone can do on a bank holiday weekend, at B&Q whereas  your skill set is not your, your bog standard let's go and buy some screws and some wood and give it a shot, it's the actual process but I can imagine that that is quite triggering for men because, and whenever females kind of step into those domains that are, you know, previously set to be within that male sphere. I do think and this is one of the problems I have with LinkedIn, I'm going to openly say it men do not like me on LinkedIn strong, strong female entrepreneurs doing it for themselves sister, are not always welcome in that kind of situation so I can understand that, but it's frustrating right we're in 2021.
Abi Hugo 
Yeah and I think it's just having to, it is having to grow thicker skin and really think and it does, it does. I can't say it doesn't affect me, it affects me for a few hours and I sit on it and I have to like, but to be fair actually one of the big Fran helped me with this, I just started deleting them now, because why do they need to be that, like, it's my space, its my online presence. I don't need to leave those comments there. Is that so I just delete them, without even thinking about it. So, that has helped massively. So if someone slides into your direct messages and upsets you block, delete, move on. That has helped me a huge amount I don't know why I felt in the first place I had to keep it there like, why, why give them the power as such like I said, making it, like making light of it helps but also just when it, when it's really bad just delete it and move on.
Fran Excell 
I've done quite a few episodes around trolling because it is, it is one of the things that really holds people back from from being visible fear of judgment, whatever fears there are they all tend to feed into a fear of judgment, right, and it comes, it's so much of it comes from childhood so like Abi was saying like sometimes, if someone says something mean, we, we can often have that need to defend, but it's also being able to allow someone to vent and project their own stuff onto you and your Instagram post or podcast or whatever it may be, and be able to take that little step back, fly on the wall view of it take the emotion out and go okay well what's actually going on for that person that a) they believe that that's an okay way to behave and b) that they want to lash out in that way because the way I look at it, is somebody who wants to sit and be a keyboard warrior or like an online vigilante, it's, it kind of says everything about them and not really anything about you and I did a big email, I was telling, telling you ladies before about my first one star review on the podcast, to be fair, said some mean things, but I literally didn't even react to it and I almost kind of had a little bit of a chuckle to myself, because I know how untrue, it is. And I think with trolls one of the things that people fear so much, is what if what they're saying is true and what is the fact that they're saying that what does that mean about me. And then there's also, because there's constructive feedback right, which is something that deserves a seat at the table constructive feedback would probably be polite, would probably be in a direct message, or just constructive in some way. And that always deserves a seat at the table and it may be painful because they could be right, there's, there's so many different opinions and we've all got our unconsciously wired brains and nervous systems based on our own experiences so sometimes we will put something out there that we haven't thought of from another perspective because that's not our experience of life. So that happens, constructive feedback, great oh didn't realise that, thank you for changing the way I look at that. But then there's the outright people who just go and be mean and personal with it, trying to because they know you're going to read it doesn't say anything about you. Really doesn't like this woman when she said it was a self serving podcast because I let them know how they can work with me at the end. You know, if I'm sorry but for that one person that decides to say that, versus the hundreds of messages and emails that I get from people saying thank you for putting out all this free content. Thank you. You've changed my life because I took action on this, this and this, like that one person's opinion because they've been triggered by something that has everything to do with them and nothing to do with me is not constructive feedback and not worth my time or energy. 
Dawn Baxter 
I also think, when you get comments like that you could really depict that situation so like your comment Fran, that this is a self serving podcast. That makes me sad, a little bit because if there, if, if there is somebody behind that comment that does not have practices within their lives that is self serving for them, that cannot be openly celebrated by other people because they don't have the confidence to do something that is just for them, like that, they're suggesting that's a negative thing I would look at that and be like, yes, that's self-serving, and yes, it's a brilliant practice, that we tend to not give ourselves we put ourselves in this situation of humility where sometimes we don't give ourselves what we need, or we do, we do it in secret like it's a dirty little secret for us to fulfill those goals, and for it to mean something to us and be self serving what's wrong with that?
Abi Hugo 
I think that's why you need little team of people around you that you can be a little bit like humble brag to, you know so I can come to you two and I can be like, look what's just happened, how amazing this, and they're not going to judge you for it, they're gonna celebrate you for I think.
Fran Excell 
Yeah, yeah, yeah, exactly. And I think the thing, the thing is with, when people just want to be mean, because this is the thing when you understand how we're actually wired as human beings and how we work on a fundamental level like what really goes on in our noggins and in our bodies and all of these things, the way we hold ourselves back when you can understand that stuff, this other stuff this external stuff just doesn't faze you in the same way it just it just doesn't because there's, you see through it you see more truth in the world, so to speak, like you see what's going on, you see where egos are bashing against other people's egos and we're all in our own drama triangles and doing all these things. And it just stops mattering because you're like, okay, thank you. But the whole, the reason so I did a big email about it to my list and I typed out what she actually said because I was like, I know this is something that you guys struggle with. Because what this women actually said was like she states the problem in a way that we all relate to gets you hooked in and sells her service that's not helping the world, this way is only helping herself. And what I really wanted to get across was I fundamentally at my core, don't believe that because, you know, you've got 174 episodes of free content so to speak that she can go and take action on. I've never been the person that does the what not the how. So when I'm comfortable in where I stand, and what I stand for somebody else's opinion in that way just isn't going to its like Teflon, it's like flick them away. Like that little being comfortable in who you are and what you want. I think it's so core to build a business really around who you are.
Dawn Baxter 
Well thank you so much, my lovelies for coming on today. I really, really appreciated both of you coming on and discussing these really important things that I know my pretties will be dealing with, for my own self serving point of view, I really enjoy having female entrepreneurial friendships and communities because I know for a fact that I wouldn't be where I am now without you guys and without my free group, I mean at the end of every podcast it tells people to come join my free group and if you're listening right now, come join my free group. And, you know, I am unapologetic about go, go, go, yeah I'm unapologetic about inviting people into my world and then supporting them and I love working with people I mean essentially we do all have businesses and I don't see how that is, could even be considered a problem but it does come down to mindset and I think what Abi said before is so right without those communities, without those female friendships for me personally, I really don't think I would be where I am today so I really appreciate my, my friends coming on and joining me today. I hope you'll both join me again another time because I actually feel like the three of us could probably talk for another three or four hours without any issue, and there's probably, we know we could, there's so much more that we could, we could talk about so I will invite you both on again but thank you so so much for joining me today. 
If you're loving our pretty podcast, come on over to social pretties, our online safe house and sisterhood community. It's a safe space where female entrepreneurs connect and thrive in a warm welcoming fold of pretty amazing women.  You'll find it easy redirect in the description, and I can't wait to see you.  And depending on where you're listening right now, we would love it if you would click subscribe or follow us to be the first to know when our new podcast come out.