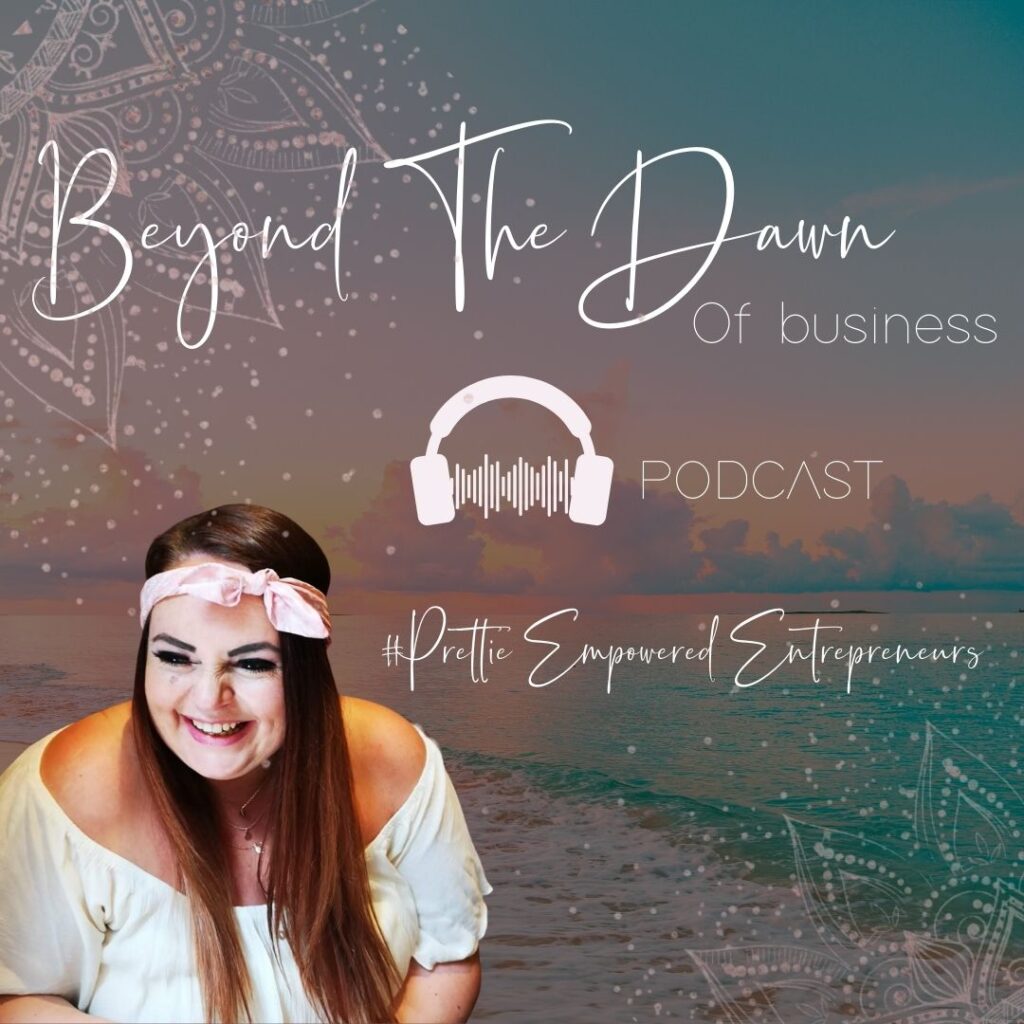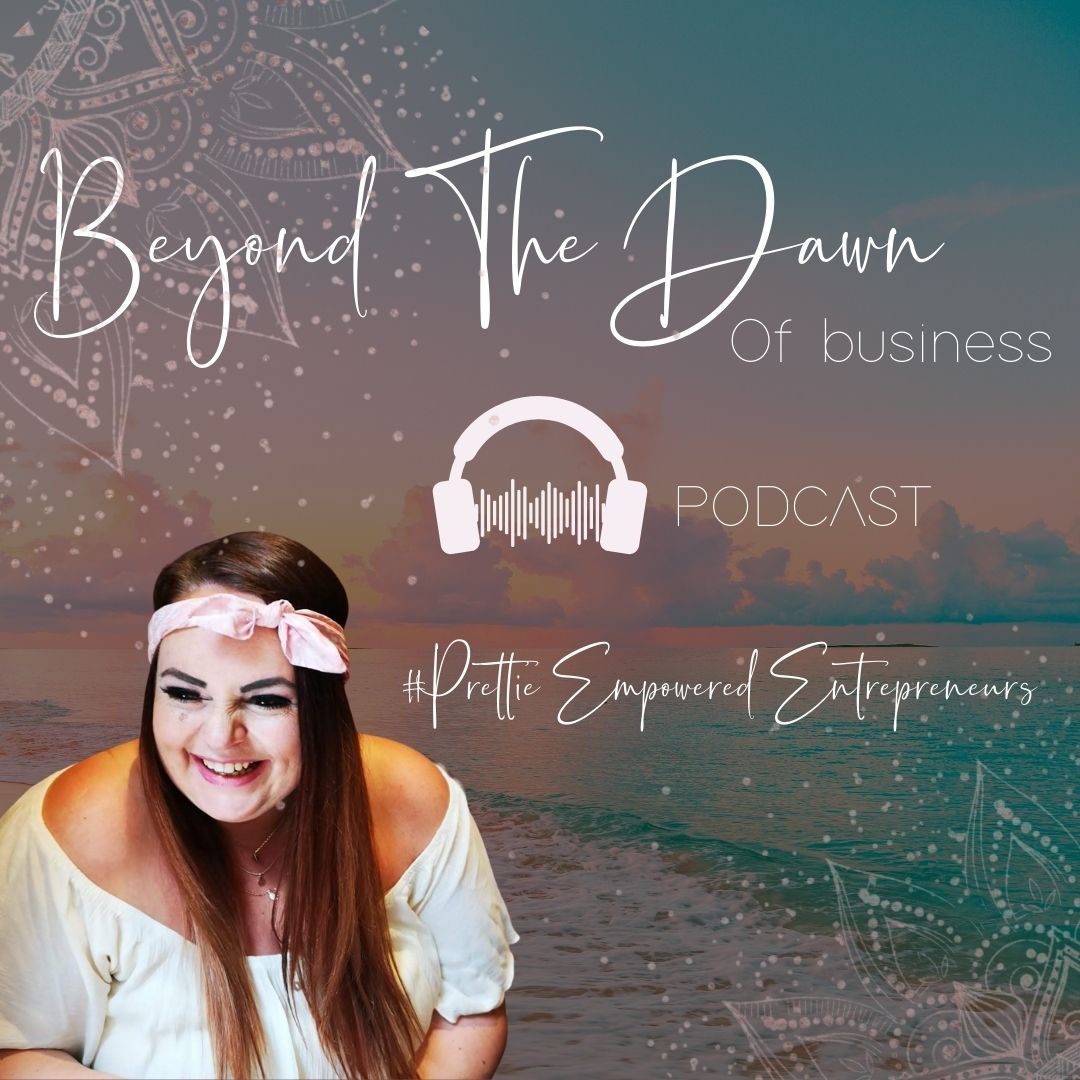 Interview with Bethan O'Riordan
Welcome my darling Pretties to our Beyond to the Dawn of Business podcast for pretty empowered female entrepreneurs.
It's time to step into your power Pretties! Lift each other, support the squad and choose a life filled with the autonomy and freedom to live your dreams.
I'm your host Dawn Beth, the Owner and Founder of Beyond the Dawn digital business brand and agency. My coffee is hot and my eyelashes are on, so we are ready to go!
I want all female entrepreneurs to feel empowered, supported and loved, and given the opportunity to really connect with other female powerhouses in the industry, in a way in which we lift each other up and inspire each other, and take care of each other in ways that we have previously not seen in business, possibly, listen to us waffling on about business and life our families, and our mindset, our financial goals and our freedoms and our autonomy. And what we hope for the world and what we hope for you, what we hope for ourselves, and all of the things that we've experienced through this very colorful journey of becoming successful female entrepreneurs and digital business owners.
If you want to know more you want to learn more, you want to be in a connected network of soulful heart centered female entrepreneurs to help guide and support you in your journey, and sometimes you still understand what it is that you're going through whilst you're building your empire, then you are in the right place. To listen to this podcast visit our channel on Apple or Spotify and remember to subscribe for future release updates!
Dawn Baxter 
Hi everybody to today's episode, I am so happy to welcome my friend and client Bethan O'Riordan who is an expert in all things parenting, and actually a hell of a lot more, I'm not going to give too much of an introduction, I'm gonna pass it over to you, Bethan and I'm going to let you introduce yourself to my amazing pretties.
Beth O'Riordan 
Oh thank you very much. So my name is Bethan, I'm a psychotherapist, I'm a mom of three and I specialise in parenting support with mums in business, to help them parent with peace of mind.
Dawn Baxter 
Amazing, amazing. And I guess it goes without saying that you are an incredibly successful entrepreneur in that space and we've been working together now for a number of months, which has just been wonderful. And I've just seen you absolutely shine over the last few months, just really getting into your own vibe. So the first question I want to ask and the first thing that I thought it would be nice for us to kind of discuss is that feeling of understanding in yourself when you feel comfortable with yourself and who you are? I mean, how do you think that that can help not just in business, but like as a woman?
Beth O'Riordan 
Well, I think you make a really great point, I think you see, what people forget is that as a mum and as a woman, you create the emotional tone of what goes on around you. And that emotional tone reflects your inner emotional tone. You know, like I was just listening to your last podcast about money mindset. And I was thinking God, this is really similar to parenting, and who you are as a person in business. You know, like, you're, and I guess I'm a psychotherapist, so I bring everything back to psychotherapy. And what we're doing in business and mum-ing and parenting and life and all the rest is we're replicating early patterns of behaviour. And so when I came to you, I didn't realise I had to change certain patterns about me that I didn't know were there. Because you can only change things once you bring them to light and once you know they're not working, and then you can change. So I think it's everything, you know, your inner world creates the emotional tone of everything around you.
Dawn Baxter 
Gosh, you've literally answered one question and like said one paragraph and you've already blown my mind.
Beth O'Riordan 
I was very nervous for the first question. I was like, God, what if it starts off on something really hard? But no.
Dawn Baxter 
Oh no, is never heard on this podcast never, never is always just like a casual chat, which is one of the reasons why, excellent, you're still passing here, you're in good company. And yeah, I mean, you're so right, you're so right. And you know, one of the things that I adore about you is the fact that you articulate everything in such an intelligent but understandable way. And it does just blow my mind. It's so true. And I think it's an overlooked thing, not just again, for business, but as business women, or just as mums, we totally neglect that area. Like I don't think that I even considered who I was and how comfortable I felt in my own skin that emotional tone that you talk about. I don't even know if I was even aware that that existed until my 30s.
Beth O'Riordan 
Yeah.  And I think that's the way it is because the brain isn't developed till you're about 25. And so there's no real context for much then. And then, you know, when you get into the 30s, it's almost like you have the ability to put context on your life and you can look at things, perhaps without a little bit more shame, perhaps without a little bit more guilt, and start looking at these patterns and taking responsibility for things that are going well. But also things that aren't going so well and say like, oh, what is my part play in this? And what can I do differently? Because I think before then we do a lot of finger pointing, don't we? And a lot of kind of like well, they did this and she did that and he said that. And then we just kind of grew up right.
Dawn Baxter 
Well, some of us do. That's very true. Yeah, that is very, very true. Yeah. And you know, you look outwardly for everything. That external force is the thing that you use to determine everything. When things go, well, sometimes you might consider that look, when things go badly, then you, you know, you were very, I feel like now I'm in a circle of worrying yourself included, that when anything happens that context and also that inner confidence to just take it on board, if you did contribute to something that then didn't go the way you wanted, without the fear, without the guilt without the shame, being able to confidently say, yeah, I gave that a go it didn't work. And I'm cool with it. I've learned from it and moved on. But that's it's such a special quality.
Beth O'Riordan 
Yeah, and I think an important thing to just that I always remind myself when people need this, you know, in life, like we unwittingly do things, you know, it's like I saw, I was watching a programme with the kids of this giraffe, who gave birth to a baby giraffe from like an enormous height, and this giraffe just kind of fell out. And after 20 minutes, the giraffe, he was kind of trying to walk, but he knew what to do. He was breathing, blinking, walking, ish, sort of, you know, in that baby way, but he knew what to do. So that was his default mode. And it really got me thinking about my default mode, because this is something I talk with people about all the time. What is your default mode? And you see we unwittingly inherit default modes from the genes we've got, the environment that we grew up in, and then it gets to a point where we think, well, does this serve me? Does it actually serve me to be replicating this default mode? And if not, what do I need to do to change? And I think it's a lovely way of kind of not, it's a lovely way of exploring guilt and shame. You know, because they're horrible emotions, right? And guilt, this is really important. Guilt is our only evolutionary designed emotion that stops us harming each other. You know, so if we didn't have guilt, we'd be eating each other and doing all kinds of mad shit to each other. But so, so like, if we're feeling bad about something, it's just our protective mechanism coming in and saying, woah watch you don't hurt somebody there. But it's for us to have a chat with that internal mechanisms. Say no, it's okay, I'm doing this and it's okay.
Dawn Baxter 
I love that. I love that. And I didn't know that, that's like a crazy piece of information, that that is an evolutionary emotion, we maybe when it comes to emotions, we find a way somehow to not use them in the most effective way. Because I've learnt recently and I'm still I'm such, I think I'll always be a work in progress. But I'm definitely into those first stages of being a work in progress. And I'm looking at my emotional state in every arena of every spectrum of my life as data driven bits of information. And I never used to do that, I used to allow them to be a wave or a hurricane in which I would be swept away on.  That's quite, it's made, like I look at this situation now and if I have a strong emotion about it, first of all, I have to check myself before I wreck myself. I kind of make sure that I'm acknowledging how I feel, but not like giving into it, like, you know, just like sinking into the wave a bit. But then I tried to figure out like, okay, what, what is this here for? Is this, something primal that is no longer relevant? Because it's just part of my brain that, you know, doesn't do what it needs to do anymore? Or is this trying to give me a piece of information that actually could unlock something within me that isn't like in my conscious awareness right now. And, you know, some days that works. Some days, it doesn't work as well.
Beth O'Riordan 
Some days you just need a hot chocolate on the sofa and a candle and a blanket, and that works very well. You know.
Dawn Baxter 
Oh my gosh, you're so sweet, give my life up Bethan. Yeah, absolutely, absolutely. Yeah. Fluffy slippers and a cuppa on the couch. Absolutely. And it's strange, isn't it? Those little micro pleasures, when you are feeling a certain way that change how you feel make you feel a bit better?
Beth O'Riordan 
Yeah, I think so. You see, so a lot of my training I did, which was a while ago now, but was in compassion focused therapy, which is a way of creating an inner ally. So an inner voice that's always on your side, because we've got loads of voices in our head and, you know, not in a psychiatric way. But just we all do, right. It's part of being human. And so a huge part of the compassion focus therapy is this idea that we have three emotional regulation systems. One that makes us go and do things, one that makes us stop and feel threatened by things our threat protection system, and the other, which is our self soothing system. And so often we get caught in the drive system, the one that wants to go and achieve and get rewarded for stuff. And we can get so caught up in the fear and the anxiety that one and the anger one, the fluffy slippers one is very important, you know, because that's because it because that's your inner, that's the real person you can rely on in all this noise in our minds. That's the one.
Dawn Baxter 
That's the one. Yeah, and you don't have to look outside of yourself for those external forces. I used to allow other people to determine whether I was having a good day or not, you know, I used to totally give my power away every single day, to the chances of the environment that I was in. And I think, especially when you're a teenager, and this is something, as a parent, I'm only just kind of coming into recognition to now, as a teenager, if you're already in that default mode, like you say, where external forces have all of the power, and whether today is a good day is based on what happens to you in that day. And you don't have a lot of autonomy, in that teenage situation, or just preteen situation. Because your days are determined for you, whether that's at school, or by your parents or by any of those things, then how much power are you actually giving to the whole external force. And sometimes I wish, I just wish more parents knew about you, and people like you that educate in this arena, because I think if we could equip our children better, to rely on that inner ally, to rely on that inward power that we all have and are born with that we maybe pre 25, don't tap into, you know, naturally without the support of others bringing that to our attention. Because I just think that would be so much it would just make things so much easier for so many.
Beth O'Riordan 
Yeah, I think so. And I think like it's almost like a problem. I mean, I don't know if that's controversial, but it's almost a problem, all this information out there about parenting, about attachment parenting, and all these different styles of parenting. I mean, it just doesn't matter. And all this over talking with children in this kind of over analysis of their behaviour, I know it's kind of like my mission is to simplify parenting, where people say, you don't need to be a psychologist, you don't need to talk about the emotions. And when you do this, did you know that this totally makes me feel they don't need all they need is you to relate with them in a way that they feel supported. Right? But sometimes that can be the hardest thing to do, because the parent is going from their default mode, and they're totally triggered. So you know, if you go to your mum, I don't mean you, but if a child goes their mum with anxiety, that mum's anxiety is totally then go on overdrive and they are coming up with all these really complicated plans and solutions. The only thing you have to ask the child is what you need right now and that's it.  You know, that's it and it's the same for the parent, what you need right now. And if it's I don't know well that's okay. It's okay to not know, and your kid needs to hear that as well. I don't know, but I'll help you. You know and that's it. 
Dawn Baxter 
I don't know but I'm here.
Beth O'Riordan
Yes, I don't know but I'm here with you.  You know and that's kind of.
Dawn Baxter
Let's figure it out.
Beth O'Riordan
Yes, exactly. 
Dawn Baxter
Yeah, I love that and I think you're absolutely correct. I mean, obviously, I only have a certain level of understanding of the industry that you're in and I guess and I mean this with love the industry that you can sometimes be thrown into that you don't actually quite fit in because of your level of expertise and actually the psychotherapy and then it goes just a little bit you know, deeper than what maybe people can find on the internet right now in terms of parenting advice, right?
Beth O'Riordan 
Yeah, yeah. I think that so, no you're right, I think so because you see I am so I have a membership and you know, a lot of the time in my membership I'm always saying to people I could give you a worksheet to work through with your child for this but I totally don't believe in worksheets you know, all this kind of, you know, this promotion of worksheets for kids to understand their emotions. Now, I know there's a time and a place for everything, right? But kids don't need to sit and do a worksheet on when I'm angry, and this is how my anger feels. And they just need the parent to make it safe for them. You know, by saying things like, yeah, we all have big emotions. It's really hard when you're suffering this way. Or to be really boundaried and say, no, you can't talk to me like that, that, you know, like, it doesn't have to be this real kind of fluffy, like, it's okay man, I'm here for you. Sometimes it's like, no, just go put your shoes on, I've asked you seven times, we've got to get out of the door. It does, it doesn't have to be. So you're right, I think there is kind of in, well, there's just so much noise out there, you know, there's so much noise out there around what parenting should be.
Dawn Baxter 
And I can understand that, like, I have a, it's a different area. But in my area of work, it's the same thing. Everybody has an opinion, on the right way to do this thing. And what's great about the internet is the access to such a wealth of education and information. However, at this stage in 2021, actually the amount of information and the amount of stuff that we have access to, and the lack of regulation over who can give that information out, means that what we can sometimes be both in business, and in life, and as parents be looking at all of this information, and it being actually noise. And it just being another source of overwhelm, and confusion. You know, like, I speak to so many clients, who, when they come to me and work with me, they're just glad that they can take some of the stuff that they learn, or the stuff that we collaborate with, and we can work with together. And when they see that working is such a relief. It's like, Okay, I know now that Dawn understands, I don't have to skim the internet for 600 different gurus now to try and get the answers I have somebody I can rely on. And you know, in that kind of juxtaposition, I guess, kids are the same way, right? Like, there's so much going on, there's so much to learn. If they know that when they can go through a parent, they, they may not have the answers, but they have somebody that they can trust that they can talk to you about it that you have the opportunity to have that open communication. And like you say, sometimes that communication may end in boundaries. But it's still that safety net, I guess, and that's all we really need to be is that safety net, until they get up on their own feet. Right?
Beth O'Riordan 
Yeah, I think you make a great point. Because, you know, like, I only felt like I've had my own business as a psychotherapist for years. But I've never actually done a course on business, I just set myself up in a room and people came and I thought, oh, this is lovely. And then I started to want more for myself, you know, and my goal now is to be financially independent from my husband, I'll come around to what you were seeing a lot more and I'm gonna go the long way. And so that is that is my goal. Because when I became a mum, I wanted to give up work to raise the kids, I went part time. But now 10 years down the line, I'm like, what if I hadn't have done that, but I'm really pleased I did do that, I would be in really different place with my work, with my life, with the money that I'm earning. So that's why I was so pleased when I met you, I was like, wow, she talks a language I understand. And it's that relief of like, great. And I think it's just to find one voice that you like listening to that makes sense to you and follow that. Because I get a lot of people come to me, and maybe you do as well, who might follow four or five different parenting people, and then they get different advice. And then they're kind of deflecting actually totally from the issues that they're going through, which is fine, which is all part of the game of therapy, we call it, you know, you know, because when a mirror is put up to you, and you see something hard, I mean, it is very hard to keep going and push through that it's a bit easier to run away sometimes. And so with all the people out there, you know, finding one person and sticking with it, even if they tell you things you don't want to hear, because those things are the truth. And if you can listen to the truth and trust it that's what we all need to hear, right? Because then we're going against the unwittingly bits, you know, we're kind of letting things in. 
Dawn Baxter 
Absolutely. And you're absolutely right like, obviously it's different every time. But we do get a lot of our clients come to us and by the time they've come to us. They are frazzled. They are, they are at that point where they have followed lots of different methods, lots of different frameworks. They've decided upon attempting this and attempting that and because obviously we work in social media and digital business. These two arenas actually require our clients to be involved and to be doing market research and watching what people are doing and watching what's happening online and looking out for trends and looking out for pain points and actually being able to be available a little bit like what you said earlier, like being able to say to their people, what is it you need right now? Like, what is it that you need from me, so they're always constantly being told to be in that space of noise. So there's lots of different things that can come in and, and make that difficult. And that frazzled feeling is just from not feeling understood, and is always quite funny when it happens. Because it's like, well, I've been told I should do all of these things. And I've been told by this person I should to do all of these things. And there's so many 123 frameworks out there, like you must do this, and then this, and then this, and then you will have a viable business. And we just don't work that way. I mean, you know better than most, we just don't work that way. You come to us, and we look at your situation, what you want, what you've got, and what we need to get to. And it is a proven conversion situations, there are proven models that work, there are unanimous data points that I can sit back and say, we know this thing works. But outside of those, those boundaries, those information, facts, not opinions, actual facts, everything outside of that is flexible. Everything outside of that it's flexible, and I love the film, Inside Out, there's a part where Joy is on the train with Bing Bong. And if you know if there's parents out there listening now, and they have seen the film, they'll probably be giggling, and I can't remember which one of them does it. But one of the characters knocks over a box and says, Oh no, I mixed up facts and opinions. The other character says, Oh, don't worry, nobody will ever notice. Just put them all back in together, and I loved that scene, because I think both in your niche, and my niche that like that's such a clever observation about human behaviour, right?
Beth O'Riordan 
Yeah. And I think the thing that I always say to people, is just to tap into your felt sense of what feels right. You know, like, again, listen to your money mindset podcast, some of the affirmations didn't sit with me. So I was like, oh, because I guess that's it, right? You provide a range, and people can tap into what's right for them, right?  And something really resonated with me. And I was like, wow, you know, that feeling. Because a lot of the work I do with people is kind of, and it's not a lot, I'll say a lot of the work because it's this kind of sense of how they became to become the person they are today. And of course, we don't remember every emotion that we have, right, you know, I can remember when I first developed an emotion around something difficult. But we can tune into a felt sense of it. And when we can tune into a felt sense of something, then that helps to release something else. Because we're owning our truth, we're owning our power, and we're taking responsibility. We're not going around everyone else with a begging bowl going like please just fill me up inside, please you know, just tell me the information I need, give me my 123. And I'll do it. Like, no, you have to develop your own felt sense of what feels right. And then be flexible to change that. And then when you've got that you see, that trickles down into your children, or those around you into your business sphere, because you're changing how you relate to the world. And sure, that's the biggest gift you could give anyone really is the gift of you.
Dawn Baxter 
Yeah, I think that's such a beautiful way of putting it. And one of the things that I put out on social last month, I think, was if you change your relationship with yourself, then your relationships outwardly adjust accordingly. And one of the things that I get asked all the time from new business owners or business owners, entrepreneurs who are coming into a growth state of their business, is that why did the people around me in my friends and family group not understand what's going on? Like, why haven't I got the cheerleaders, because you will do these things in life. You'll get pregnant, get married, buy a house, buy a car, and people will cheer for you. When you start your own business and you get to a certain level of that kind of inner personal growth. And you look around for your well-established, lifetime cheerleaders. And they are perhaps not there. And I think it's the same kind of thing. You have to establish that within yourself. The gift of you is going to be a journey that only you can take and not everybody is on their own you journey and sometimes that means that there can be a disconnect between that basic level of human understanding within those relationships that you have externally. And the only way to change that is to create the relationship you want with yourself first, including with your kids.
Beth O'Riordan 
Yeah, like you said a great thing on one of your podcasts a while ago, about when you decided not to phone a friend anymore to see what would happen. And that's it, isn't it, you know, sometimes there's like a bit of grief around that and about the change because it's like, you were or me as well,  it's happened to me with friends over the last year. You know, when I could see it, I was really filling their needs and my needs to be wanted and included, right? Because none of this is bad we just all have it inside of us, right? It's just about, for me, I needed to dial down bits, I need to tune up bits to really be the gift of me, you know. So we kind of go around filling other people's bucket, which is also kind of filling ours in this really double edged sword kind of way of like, please like me, please need me. But it doesn't work, right? It doesn't work. And then there is this period of change and loss. What I always say to people, you know, because people are always people come to me because they want change. It's very funny in Ireland, there's a thing called the shift, which is I think it's an old fashioned word for going out and like having a kiss on a Saturday night. And I remember one of my lecturers said to me, when I was training to be a therapist, like forever ago, no, he said, you're looking for the shift, not a Saturday night shift, like an emotional shift. Okay, then. And you see because people say I want change, I want change. And I say, okay, the change will come, I said, but don't focus on what you want to change, see what's already gone. Because if you can see what's already gone, it's a lot more hopeful in that space, rather than kind of chipping away at change. If that makes sense.
Dawn Baxter 
It makes perfect sense. And I think it's one of those situations where you don't necessarily, always recognise that in yourself until you are ready. There are so many people that I have met, that have kind of teetered on the edge of that shift, and almost been scared back into comfort zone, before being able to come back at a later date in a different space, and kind of reestablish that shift within themselves.
Beth O'Riordan 
Because it is really scary. Because you're going against all of the patterns that have ever been put on you in life, you know, so the my work is all about seeing people in a family system, you know, so you and me, we were born into a system and there was like a spider's web of people all around us. And often there's one child within that family who all the kind of I want to see defunct emotions get put on, it's kind of like, well, you're the problem. You know, when actually it's not, you're kind of, like, you're just a conductor and a transmitter for all the pain in the family. And those are mainly the people that I meet, are they realising that their child has become that person, this pattern is repeated to another generation, and their child who they know isn't a problem child, but is being perceived as that on the outside. It's just transmitting all the stuff of the family, that the family can't compute, you know? So then that work is very scary. It's, you know, you have to work through all of the kind of, well, you know what I mean, it's so scary to think that you might actually be this great person, because your whole life the system around you has made you think you're not, you know? And then all of a sudden…
Dawn Baxter 
You do identify that way.
Beth O'Riordan
Yeah, that's it. That's it. And when I say to people, for what would it be like to not identify in that way? And then there's a lovely whole new space opens up then, of well maybe I would do this differently. Maybe I would do that differently. Maybe I would, you know, there's a whole world of possibility comes out there. But it does take time because it's physically in your genes and in your DNA and change is hard. Change is really hard.
Dawn Baxter 
Yeah, change is really hard. There's a quote and I've got I know before I say it, I'm going to misquote
Beth O'Riordan 
Oh I do this all the time. It's great.
Dawn Baxter
Please forgive me.
Beth O'Riordan
It's great. It's a great it's a great game. I'm good at it, too. Yeah.
Dawn Baxter 
It's a good it's a good game. The misquote. I'm going to I'm going to give credit to the misquote to Glenin Doyle. Even though I know I'm about to misquote her probably terribly, but it's she says something along the lines in her book Untamed, where she's speaking to her daughter Tish and she says something along the lines of "it is your job to disappoint everybody else in your life as long as you never disappoint yourself". And Tish says to her, even you, and Glenin says, especially me. And I love that.
Beth O'Riordan 
Oh, I just got the heebie jeebies then when you said that .  Yeah, I just think all the hairs on but right you see it's right. 
Dawn Baxter 
It is major speech you go there and Glenin speaks to my soul.  There are a few people in this world that every time I listen to them, I just think wow. And I loved that, because I have always been. my relationship with my mother is one particular way. But I have always disappointed mum, I've always made her super, super proud. But I don't conform. And I and we had a very difficult situation when I was kind of like a teenager, and she was going through menopause. Because we did come to loggerheads. And I'm not a person who thrives in conflict. So it took a lot of guts for me to stand up to her a lot of the time. And even as an adult, I do it now, I don't agree, I will say that I don't agree. And it has changed our relationship profoundly. And actually for the better not for the worse. That honesty has made a difference in a positive way. But what's really funny is that you grow up kind of being in this space where you don't want to disappoint your mother or your parents or the people that you know are of that kind of authoritve love and safe space for you. But actually, when it comes down to it is your responsibility to make sure you have a good life, you've been given the gift of life. And you have to make sure that you do the most with it. Whatever that is for you. I mean if that. And that might be sitting on the couch watching reruns of Friends eating Cheetos today.
Beth O'Riordan 
When are we booking that it?
Dawn Baxter 
I don't know it does sound good. But yeah, but I mean what like a lovely like thing to consider. And I look at Bailey and she does things she really does make her own rules. She's very respectful. She's very loving, and she's not in that place where she's super confident to totally go against my thoughts and feelings on things. But I can see it and one day she's going to turn around and tell me like mum, thanks rack off, this is my life, and I'm going to have to just be like, okay, girl, go for it I'll be here if you need me. You know?
Beth O'Riordan 
Yeah, that's it, well do you know one really powerful thing to do in that situation, like, if it's okay for me to say, if you imagine an umbilical cord going from you to her wherever she is, and put all your sparkles and all your pink energy into that, that will maintain the energy of what's happening.  You know, because I guess, like, I have a similar relationship to my mum that you do with yours, or I did and it does take a lot of change. And you see, there's this word rejection, it's so important in families that we reject each other. And you see, what happens is, is that by the age of two and a half, a child should develop something called differentiation. I know it's very technical, but that's it. And it's basically when they get their own identity right?  They begin to see themselves as an individual. And if that doesn't happen then what we get is fusion. And there's so many women I meet who are still fused to their mother, to their mother's ideals, their mother's dreams, their mother's fears, you know, and they still feel that kind of little girl inside, which is all so valid, even though they have their own business, they have a car, they have all this stuff, but emotionally they're locked into that place. And it's because their mother never rejected them. And it's not rejection in this way that like, you know, bags are packed, you're out on your arse. It's a kind of, you know, it's an emotional rejection with an umbilical, an invisible umbilical cord with sparkles and pink keeping you together. You know, and that's how parenting is simple. But we over complicate it, like thinking and talking and, you know, but it sounds amazing that you're, you know, you're ready for baby to fly, be her.  
Dawn Baxter 
Yeah, she's such a beautiful human. One of one of the things that I found difficult, not now, but maybe, maybe around the time that Bailey got to six or seven, she, she changed. She became interested in things that didn't fit what I had previously seen in her personality. She went through this stage of being very cute, very girlie, you know, just this beautiful, perfect pink Princess, she still put beautiful and perfect in her own way, but she then shifted. And what's really funny is the shift is almost a parallel to some of the shifts I also have within me. So like she started to like Harry Potter and she liked dark drama and magical things. And she, she started to enjoy rock music and this whole other area of her personality and her you know, her likes came out. And for me, she'd always been this tiny little pocket, blonde princess and then all of a sudden she was like this football playing, hard ass, rock chick Princess. And it was it was a little difficult for me to for a little while for me to kind of figure out that these two people were the same person. And what was really funny was I had an amazing kind of revelation because I am exactly the same you know, and I had this conversation with a friend of mine and she just laughed and she was like, that's so funny. You're like tell me how many rock albums you own Dawn, how many are on your phone.
Beth O'Riordan
I'm not telling you I know where this is going. I'm telling you.
Dawn Baxter
She's like during your teenage years like did you spend a ridiculous amount of time like watching Charmed and The Craft and all of these things where it was like magic and mystery? And I was like, oh my gosh, well, yes, actually, I was rather obsessed. And so it makes total sense. And I was still trying to squeeze her into thispink pocket Princess, where everything was tiaras and puffed skirts. And actually she'd evolved and she'd evolved naturally, whether that's, you know, the gene pool situation or whether that's just her, she'd evolved and I had to kind of realise that you don't have your children for them to be accessories to your life as you believe they should be. You grow humans and those humans whatever, or whoever they are, you just love them. You just love them as they are. There you go, parenting solved.  Well thank you. 
Beth O'Riordan 
Oh, well, but I think it's amazing. I was thinking maybe the umbilical cord needs to have eggs and Harry Potter and magical through it, then sort of the pink fluffiness, you know, but, but I think, but I think that's true. But I think to parent your child without being triggered into kind of the should and the ifs and that whats and actually just stand back and let them unfold. Like I remember with my son, he was really good at playing piano. And then he wanted to quit to become a Rock God to start doing the electric guitar. And I was like, oh my god, but he's really good at piano. I don't know what I was doing, and I said to him, you know, you sure?  And now he's quite, and he loves guitar but it that thing of like you just have to follow their lead and trust, trust that they know what they want and what they're doing. Yeah, that's it. But I still look back at it because I think God, there was a part of me that really wanted to do piano and who really wanted me to do piano when I was younger, my mum you know, so it's funny. I but I think standing up and changing that intergenerational piece like you did, like I'm doing it is massive it is the biggest gift you can ever give your child is the standing back and letting them fly.
Dawn Baxter 
Just letting them be. Yeah, because I did. When I was growing up, I had a lot of influences with my dad and I, my dad would openly say I want you to do better than I did. I want you to, I want you to become a famous singer, because I never could. And I want you to do this thing and he was very open with that. But actually, all of the things that I ended up pursuing with my dad in that kind of shared interest, they were things that I was truly interested in. And all of the things he tried to push never flew you know, and he did eventually step back and just kind of go alright then, well, you like this thing we'll do this thing. And I tried when Bailey was younger to like get her into dance. And I wanted her and I had this whole kind of like vision in my mind of her going to the same dance school that I used to go to and it was all sentimental and it was like a family legacy and all of this and she went to dance, and it was okay, but it wasn't like the best thing she'd ever done. And then we found that dance was actually meaning that we didn't have quality time together on a Saturday and she was more interested in us being able to go out and be in nature and do other things. And yeah, I didn't particularly enjoy the hour in that room with all the other mums. You know what you're afraid to go back out and in the end we made a family decision that like the dance thing that was being held on to it was being held on to so tightly it wasn't for her it was totally for me, it was for me, to and I don't know it probably had some something to do with some deep level kind of like validation that I was a good mother and you know, she was going to dance class, she was perfect little pocket princess and all of that stuff. And you know, there will have been a lot of things in there and I don't remember going to that dance school very, very often like my memories of that time in my life are very limited. But I don't know that I really enjoyed it. I know that I told my mum that I wanted to quit going to that dance school at six. And I always regretted it because later on I got I actually enjoyed dance. And I was annoyed with myself that I'd quit at a young age, but I don't remember why I quit and maybe I quit because I didn't like it that much. Do you know I mean, so like when it came to that point, we had that conversation? I had to just remember that actually, who am I holding on to this for, is it for my daughter? Is it because she really enjoys dance, you know, is she going to be upset and devastated if we don't go to dance class. She wasn't interested. She wasn't bothered it was me and I had to, and we have the we actually have this in our family. Like if we have a set idea of what we believe something should be and somebody from the outside tries to move that previously for me, that's an unmovable thing like that is set in stone. That's what's happening. And nothing is going to move that thing from happening. And I'm learning that actually, it's never that way. Whether it's parenting, your children, your business, your life in general, you don't have to be – you can allow for things to be flexible and kind of naturally ebb and flow. And you don't have to be stuck in these things. And it's interesting to think about what it is in our, you know, in our psychological situation that that makes us feel like those things have to be so fixed.
Beth O'Riordan 
It's funny, isn't it? I think you see that without rigidity there's a lot of fear that can come in for people. Who knows that people want like a plan and they want to know exactly what to do because if not, but again if you need to tune in to you what feels right for you. And then roll with that you know because that felt sense will never lead your wrong.
Dawn Baxter 
Yeah. This is so lovely to talk to you today. If you could give busy entrepreneurial mums one tip Bethan before we go, what would your big tip be?
Beth O'Riordan 
So my big tip would be to make a plan for your parenting. Because people always say to me, I wish parenting came with a handbook. And I say well create your own and base it on your values, your needs, and see where you go from there. Because then you've always got something to fall back to. And if you're struggling as a parent, if you keep doing and saying things that you don't mean that your mother falls out your mouth before you've had time to think about it. And you have a plan to go back to like, Dawnie, you gave me a social media plan, like it was part of working together. And now I have a plan. I know exactly what I'm doing. And it can be that way with parenting as well. Even when things are like completely crazy and the kids have turned into like the devil or the exorcist or whatever. You know, you can always stick to your plan of how you want to be, the things you're going to say, how you're going to act, and how you're going to help yourself decompress after and that will stop you doing and saying things that you regret later. So have a plan.
Dawn Baxter 
That's amazing.  What an amazing way to end the episode as well. So where do people come and find you Bethan? Where can they come and follow you for more amazing wisdom.
Beth O'Riordan 
So on Instagram, Bethan.O'Riordan or I have a free Facebook group Calm and Confident Parenting but I have a website as well. So all the information is there. But I'm kind of laughing Dawnie because you know in the membership, that your membership I have a membership as well. But in your membership, they you put up a poster, about the mercury retrograde causing issues with technology. And so for the last five minutes, you've kind of been coming and going a little bit on this recording. So I think the mercury retrograde is with us.
Dawn Baxter 
A little bit of tech. Yeah, you know, we just love a retrograde. It happens all the time to us. But I've learned I've learned to appreciate the retrograde and to kind of lean into it lean into the flow. Thank you so, so much for joining me today. I know there's going to be so many people that have found value in today's podcast, and they're just going to want to come and find you and listen to your beautiful calming voice with more wisdom in the future. I know it so thank you so much for joining me and we will have another get together soon. And I'm sure we can come and do another one another time.
Beth O'Riordan 
Thanks. Thanks for having us, Dawnie, I appreciate it.
Dawn Baxter 
If you're loving our Pretty podcast. Come on over to Social Pretties. Our online safe house and sisterhood community is a safe space where female entrepreneurs connect and thrive in a warm, welcoming fold of pretty amazing women. You'll find an easy redirect in the description and I can't wait to see you in. And depending on where you're listening right now, we would love it if you would click subscribe or follow so that you can be the first to know when our new podcasts come out.