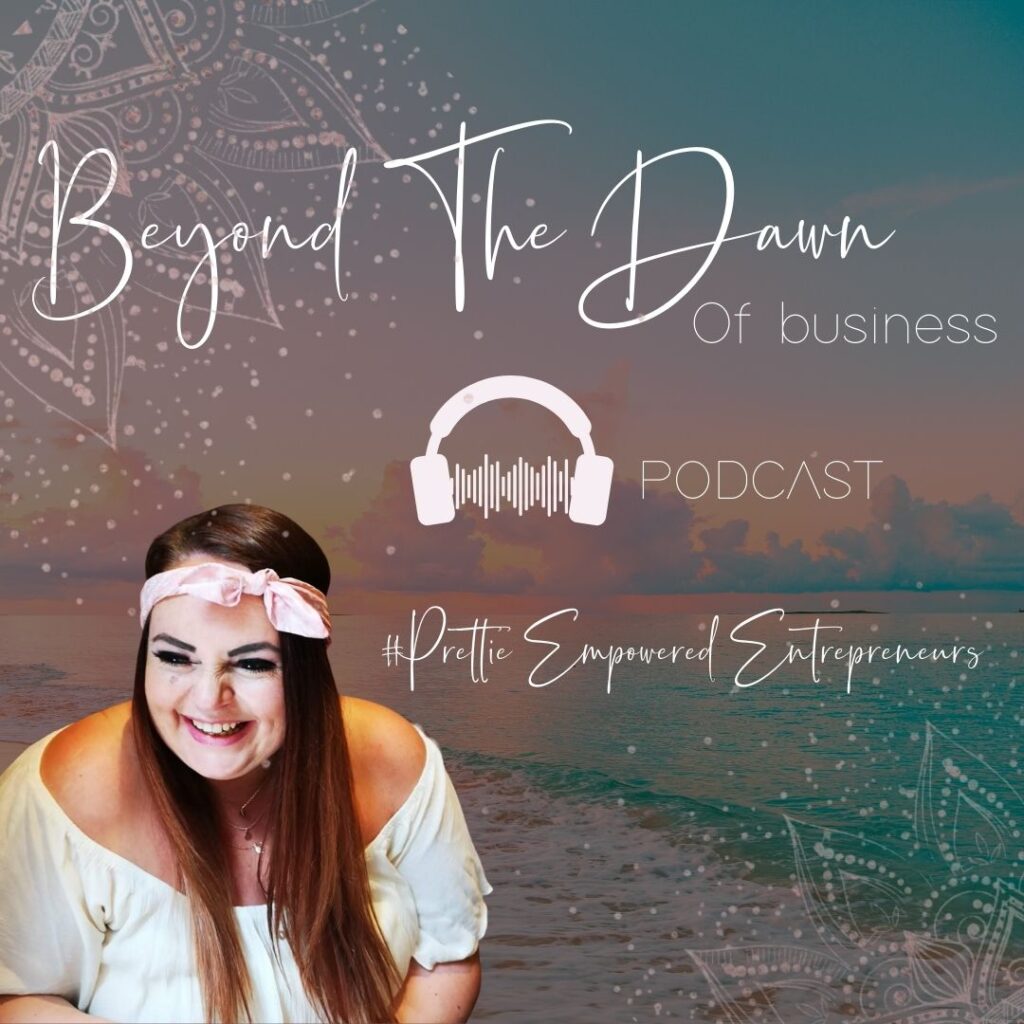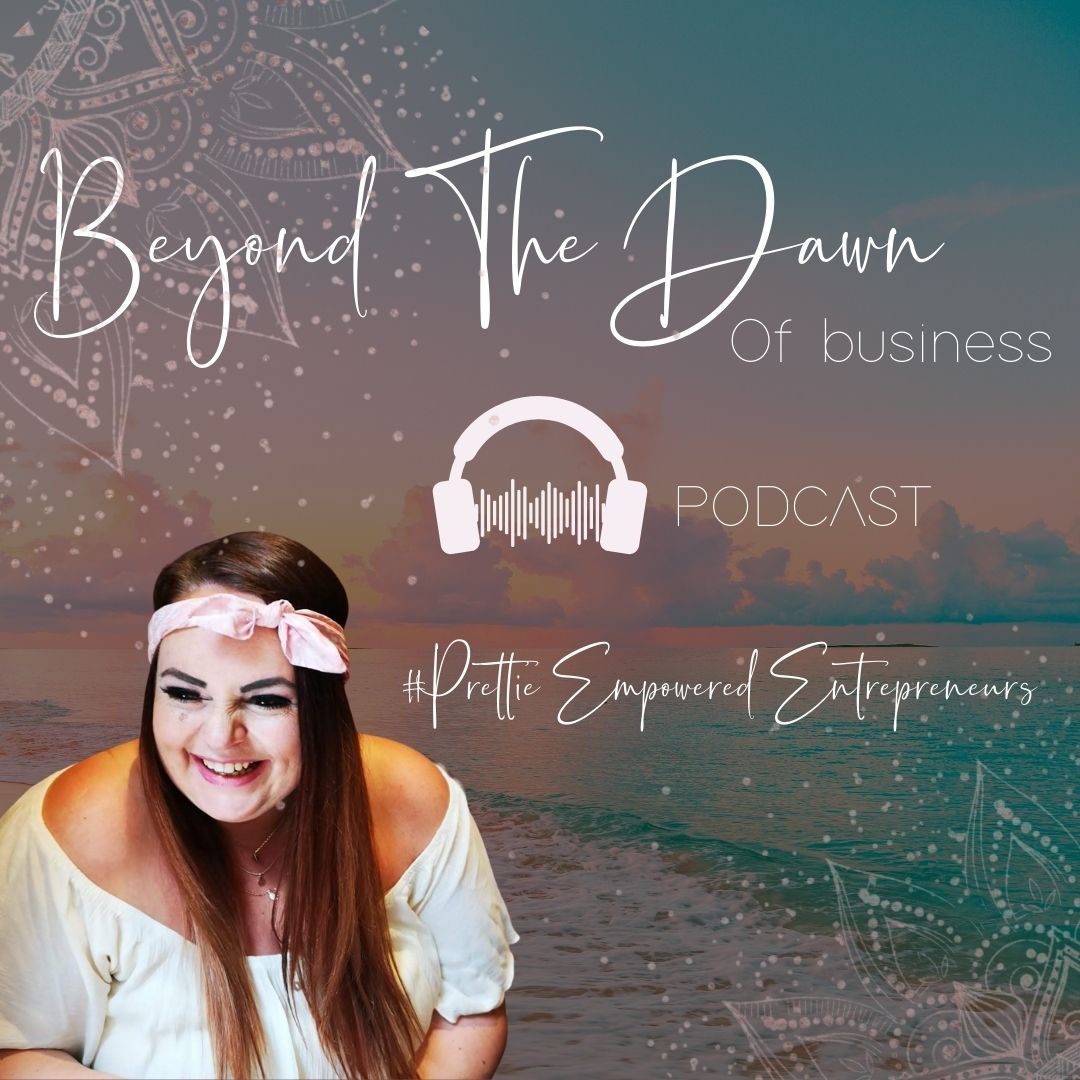 Interview with Dani Wallace aka The Queen Bee
Welcome my darling Pretties to our Beyond to the Dawn of Business podcast for pretty empowered female entrepreneurs.
It's time to step into your power Pretties! Lift each other, support the squad and choose a life filled with the autonomy and freedom to live your dreams.
I'm your host Dawn Beth, the Owner and Founder of Beyond the Dawn digital business brand and agency. My coffee is hot and my eyelashes are on, so we are ready to go!
I want all female entrepreneurs to feel empowered, supported and loved, and given the opportunity to really connect with other female powerhouses in the industry, in a way in which we lift each other up and inspire each other, and take care of each other in ways that we have previously not seen in business, possibly, listen to us waffling on about business and life our families, and our mindset, our financial goals and our freedoms and our autonomy. And what we hope for the world and what we hope for you, what we hope for ourselves, and all of the things that we've experienced through this very colorful journey of becoming successful female entrepreneurs and digital business owners.
If you want to know more you want to learn more, you want to be in a connected network of soulful heart centered female entrepreneurs to help guide and support you in your journey, and sometimes you still understand what it is that you're going through whilst you're building your empire, then you are in the right place. To listen to this podcast visit our channel on Apple or Spotify and remember to subscribe for future release updates!
Welcome to my first episode. I'm so excited to bring you an amazing interview with the wonderful Dani Wallace, aka the Queen Bee. In this conversation we cover business growth, self sabotage and showing up with love and kindness.
Dawn Baxter  
Welcome my darling pretties to our Beyond the Dawn of Business podcast for pretty empowered female entrepreneurs, it's time to step into your power pretties, lift each other, support the squad and choose a life filled with the autonomy and freedom to live your dreams. I'm your host Dawn Beth, owner and founder of Beyond the Dawn Digital Business brand and agency. My coffee is hot, and my eyelashes are on, so we are ready to go. 
So hey, hey, hey pretties.  Welcome to our first podcast. I'm here with the beautiful my reigning Queen Dani from I am the Queen Bee. Dani Wallace, welcome.
Dani Wallace
Thank you so much for having me Dawnie, am I your first guest ever? 
Dawn Baxter
You are my first ever, ever guest you are launch guest numero uno. My number one. So, I also so grateful. 
Dani Wallace
Well I'm made up to to be part of your inaugural episode of this podcast because I know that this is going to be such a sought after podcast. I am pleased that I got in there first before you get massively oversubscribed. 
Dawn Baxter
I'm really excited about it, it's one of those things that's been in the back of my mind now for possibly 18 months definitely 12 months, and I get asked about it all the time, Dawnie why don't you do this Dawnie why are you're not, you know, getting out to that audience why are we not talking about these things in discussions, and it just seemed like the right time and you know the answer to that the reason why it hasn't happened previously is schedule. And as a busy bee yourself, you know all about that.
Dani Wallace 
Yes girl knows a little bit about being a busy bee, that is not incorrect. 
Dawn Baxter 
It's not the fact that we've managed to find the time to get together today to do this is almost an absolute miracle.
Dani Wallace 
I think it's like a sign from the universe that it was meant to take place like for anybody that's like a little bit woo out there when the stars align the stars definitely align, they have definitely aligned for us today because my schedule, your schedule is insane!
Dawn Baxter
Just bonkers bonkers. And just for people who don't know who we are, yet if this is the first time that you've come across me and Dani, we're just two northern birds that actually come from quite humble beginnings. And I think it's fair to say that we're quite successful entrepreneurial women these days, Dani.
Dani Wallace 
I think it will be more than fair to say and I think it's definitely something that when you get there, we've got to own, you've got to own the fact it's a difficult thing for lots of us to do kind of when we get there is to say, hey, did you know, I'm a successful entrepreneur – like stop it!  Yeah you are.  
Dawn Baxter 
I know, and sometimes I find it a bit difficult to admit that. But that's, I think that's just because you just constantly work on the journey right and it's still a journey for us we're still learning every day, every day's a school day. But when you get to this stage where actually you look back and you say wow, five years ago versus today.
Dani Wallace 
Yeah, oh my goodness, I don't even recognize the person that I was five years ago, let alone the business that I have, or the life that I lead or the people that I get to talk to. If I look where I was five years ago, I was gigging, sometimes eight times a weekend just to keep food on the table, and keep my rent paid.
Dawn Baxter 
Yeah, and like, what I've always thought about us Dani, is like obviously, you're an incredibly inclusive, warm and wonderful person, you know, I adore you. But I always felt like I resonated with you because we have come from the same area of the UK, we've seen the same difficulties and struggles that people around here like you don't talk to many six figure or six figure plus entrepreneurs in our local space, and I would dare say, a lot of our entrepreneurial friends and contacts that we're in contact with all the time, they're more London way you know they're more Essex way or now for both of us actually globally. And that's not to say that people can't achieve that. What I love about our vibe and where we align is that we are that perfect example that you can achieve that level of success regardless of where you come from or where you start.
Dani Wallace
100% 100% Dawnie,  so my businesses are based in a quote that I heard just after I've gone through the most difficult time of my life and it's this quote from the Bee Movie and it goes aerodynamically the bee shouldn't be able to fly.  It's little wings shouldn't get it's fat little body off the ground, the bee however doesn't care what humans think is impossible, the bee flies anyway. And that's exactly kind of where you and I both kind of come from. It's that place where the people around us, what we do, isn't for people like us really, people like us don't go on to become entertainers, entrepreneurs, successful, you know, buying our dream homes or traveling whent we're allowed, and all of that. People like us don't do those things, people that have success around us tend to be more traditional, you know bricks and mortar businesses, they might have made their money in construction or from being an accountant, solicitor, the more kind of traditional ways of creating abundance for themselves. So for us, in our area. Like if I look outside, where I live right now. I don't know anybody in this particular area that is doing the things that I'm doing, I feel a bit strange doing all of this from my bedroom on the council estates of Preston. 
Dawn Baxter 
The beautiful thing about that is that you've kind of you've taken this whole dream, that I think our industry in particular is really on board with that, it doesn't matter where you are in the world, as long as you have access to the internet, you can reach more people than ever before, and we've kind of embraced that ideal, that it doesn't matter if you're in your bedroom, on a Preston council estate, like you probably chat to and work with more celebrities than hardly anyone else that I know. You know, from this kind of weird hierarchy that we do have in our mind and we do kind of use our own bespoke limiting beliefs. I think we, you know, its living proof that actually, you can do it,  if you just put your mind to it, and you create ways that you see possibilities rather than blocks, you can actually achieve it. And you certainly have inspired me and been the wind beneath my wings with a lot of the projects that I've taken on because I have just seen you fly and of course that relatability I'm thinking well, I feel like me and Dani are cut from the same cloth. So I can, I can give it a go, I can do it too. And I'm not gonna say in the world of entrepreneurialism, that every single day has been sunshine and roses, because I do believe that it is not. It's like a tangled web of experiences, but the whole experience is just so fruitful and enjoyable and rewarding
Dani Wallace 
Yeah, I think it's that ownership I think Dawnie, of owning your genius and your joy space in tandem with each other. So regardless of where I come from, and regardless of how I grew up, I have a very astute business mind. I'm incredibly good on stage. And I'm really good at teaching people, those three things mixed together are a perfect storm, especially when, you know, one of the things that I realized that I needed to do was surround myself with the people that I aspire to be like. So if I had allowed myself to stay  where I was, where I grew up in my head, as well as physically, it would have been much more difficult for me to have created the trajectory that I have. It's really important, when you are in growth to go and seek the people that have achieved the things that you want to achieve. For the most part, success leaves clues. So you know, lots of people that we are associated with are all on this trajectory. And there's this you know, the saying where if you surround yourself with five millionaires, you will be the sixth, if you surround yourself with five positive people you will be the sixth. And that's got to be said in the reverse. If you surround yourself with five people that are not forward thinking, guess what, you're going to be the sixth,  so when you start when you take all of your cells of genius, and your joy space, and you create a product of services or suites of products and services that really work then surround yourself with the people that are leaving clues. I have incredible mentors, as have you, that have left the clues because kind, good people do that, survivors serve often, people that have overcome adversities often reach a hand behind the say here you don't have to struggle. It's okay. I figured this thing out.
Dawn Baxter
Let's fast track you through that. 
Dani Wallace
Right, and that's what we now do for the people that we serve.  And it's this beautiful place of growth from this really incredible joy and heart space, a genius space. And it doesn't matter then where we are physically that everything else tends to happen around us when you take that you know intentional action.
Dawn Baxter 
I love that. And I love the way that you describe it as being like your joy and your genius and those being combined. I always use that line from Taken that Liam Neeson says which is I have a unique, you know, set of skills, but all of the jobs that I've had all of the corporate head offices I've been involved in all of even the really crummy jobs Dani, like, even down you know, being on the front on the chip shop and being in Steak house and being in the, sorry, I was gonna say something quite disparaging then being in the lower end Blackpool hotels as chambermaid and stuff like that, you know, all of those different things that I've done throughout that time, especially the things that were customer facing, they did teach me something, they gave me something. And I think it was only when I got into my 30s. And I, for one reason or another wasn't fulfilling my dreams, I felt like I was being a bit overlooked a little bit underestimated that I realized that actually, all of these different bespoke qualities and experiences and skills, and some of them are learned, and some of them are definitely generational that I gained from my dad, because my dad was just, he was just the most charming, wonderful man, and I got a lot of great stuff from him from genetics. And, you know, it's just a case of thinking, like, you bundle that together. And that actually is different to what somebody else has to offer. That was a massive revelation to me, I just thought all of these things came so easily to everybody. That I was just the same as everybody else and, and almost that rat race kind of mentality that everybody starts on an even keel, you just have to work and work and work to get …  and actually I think when you, when you think about yourself as a person you think about what you want to do – your joy, what fills you with passion, and then what you're actually good at you are entirely different, completely unique to somebody else. And yeah, you're totally right, that one of the things that I didn't expect to come out of this whole entrepreneurial journey was having this amazing community of wonderful, heart centered kind business women who were not willing to let me sit in the mud for two or three years learn everything the difficult way that were actually there to say, okay, I've been through this I know how to do this. Come on board Chukka, we're going to get you there faster. And then, for us to be a couple of years in, five years in for me to be turning around and saying, Okay, come in Chukka because I've been through that do that for other women. It's like, it's this just whole beautiful circle of events, and I can't call it work, I find it really difficult to call it work.
Dani Wallace 
It's interesting, isn't it? Like Dawnie, if we look at our calendar right now, this what we're doing is scheduled as work. Now I don't feel I am at work, do you feel like you're at work right now? 
Dawn Baxter
I never feel like I'm at work when I am you.
Dani Wallace
But this is,I look at the things that I do within my business so I am very very fortunate that a huge part of my business is to just kind of rock up and be myself on social media. To provide a platform for people, so getting out of bed in the morning to do for me the show it was a rise up show which is mymy fake telly show on Facebook as she was saying hope that one day someone will put me on the television.
Dawn Baxter 
It's wonderful, I love it, I love, I mean you know I'm probably your biggest fan, I love it. Every single time on YouTube when you get the additional views, that's me.
Dani Wallace 
I get out of bed in the morning, looking forward to doing –  that's my first piece of work of the day and that I get to hang out, essentially hang out with all of my favorite people. I get to meet new people every day, I get to help them share their stories. And then from there, I get to move into my client work and my client work is helping people find their voices and share what it is that they're good at. Come on. Now. That's not work that's – don't get me wrong, that sharing expertise and sharing the things that I've learned and sharing genius but that doesn't feel like work in the sense that, you know, I remember going into work, I remember getting the Sunday night feeling about the Monday morning on a Friday when I used to leave work. 
Dawn Baxter 
Yeah like half past five, you get from three o'clock on the Friday you get that kind of, oh it's Friday. It's Friday, I've got the weekend and as soon as you've left the building. It's just a clock down back to Monday.  I remember it well.
Dani Wallace 
Yeah. And so then you're wishing the week away to get those couple of hours on a Friday. And then you're dreading the time passing at the weekend. And that was something that was still quite difficult to break out of, was still quite difficult, that when I decided that I was going to work for myself. The plunge to take myself out of that, that wishing of time away, was really alien, but once I got my head around it, my god was it freeing.  
Dawn Baxter 
Yeah, I mean, I don't even see time that same way anymore. And I was introduced to the idea of autonomy around 2016. There was a leader that I was in contact with in my current career at that time. And I was exposed to this kind of idea of the autonomy and freedom of your own lifestyle, and of course I did – you know me. I was like, this is wonderful, everyone should have this and as it happened, it didn't actually come into fruition at that time in that space, but the seed was set in me, and somewhere down the line, obviously when I made the decision to go all in on my own stuff, which was a long time coming. It was still there and it was just waiting for me, the freedom of time. So, I mean I understand that and I got that same feeling when we were on our way back last year from Spain after completely skipping lockdown 2.0.
Dani Wallace 
I lived vicariously through you for a couple of months.  I was so glad that you were in Spain so I could see Spain through you. Because there were dark days. Yeah. Well, thank you. And I'm sorry that they were dark days.  
Dawn Baxter 
I'm so sorry that they were dark days, I mean the funny thing about that is… I am so sorry that they were dark days, but for everybody back in the UK truly out. But I only get one of two responses to that situation. And the first response is, you know, it was really crummy for us back here and wasn't even safe, because people do worry about the fact that where we even safe over there. And the second response, which was the one that surprised me the most, and the one that delighted me with absolute joy and pride, like people were so proud of me, Dani.
Dani Wallace 
I was so happy for you. Like if I was in a position to have been able to have done that I absolutely would have done, if I was in a position to have been able to and you know, that's been beautiful about being your friend and seeing all the incredible things that you've done that you've created for you to have that ability to take your family and put them there for that period of time. Wow, what a thing to have achieved. And I think it would be a silly person to go oh I don't think you should have done that.  Shut up.   
Dawn Baxter 
There was a bit of that.  What I did get a lot of, is it safe, like we, we managed to fly out during that half term, the October half term, where the corridors were open, I don't know what Boris was thinking he opened the corridor then he closed it, and it was hardly worth opening but he opened it, like, like this quick. You know, in the films when the door is closing and they just get underneath, like in a James Bond movie, and they just like skim under before it closes. 
Dani Wallace
That was you gliding with this suitcase, just underneath. 
Could you imagine! We were only going for a week. And I think we got to the Thursday. And there was just that feeling like what you were saying that feeling that Monday morning feeling. And both me and my husband we, I think it had taken us a few days to kind of unfurl. And then yeah, it was time to go back already. We were like, no we can squeeze another week out of this.  And then when we made that decision. We're just gonna squeeze another week, we sat in the hotel and watched the flights that we should have been on fly over our heads and take people home. And then he locked everything back down. So that was us, that was us until December. I mean, it was very difficult to get flights and things. It was very difficult. But I met a guy on a beach out there. This lovely older couple we were on this little Bay. And again, I think we were on close to the days that we should have been on our way for going home. And you'll love this Dani because I totally underestimated this guy. He asked me, he asked us what we did for a living. So Ian explained that he was a painter and decorator in construction, you know? And he said all right, and he said and what do you do? And I gave him this look. And I was like, Oh, well, I am an agency owner and a social media coach and actually a business coach. like I'm a digital business coach, and I gave him that look like you probably won't understand. You know, it's like it's like a new thing. And he just looked at me all tanned, relaxed, like the most relaxed dude you've ever seen. And it was wonderful. He was like, yeah, yeah. When I was back in the UK, I was a life coach for 20 years. And he was like and my wife still is she does everything just over Zoom. Like this woman just got out of the sea and I thought damn, this isn't a new idea, yes this isn't a new idea,  I'm sat here like, oh yeah I'm a digital business coach, oh you understand, You're outside of the generation that would get this. No man, I was wrong.  I was totally wrong and he said to me…
Dani Wallace 
We're the ones that are slow on the uptake.
Dawn Baxter 
Yeah. And he says to me, he says, we think Boris is  just gonna shut everything down. So we're just going to stay out here for another couple of months leave it until Christmas time see how it is and just jump on a flight and I honestly think that that conversation kind of made me go. It's that easy Dawn.
Dani Wallace 
But, that's the bit, I'd like I said, if we did this, so we've got two dogs. And we, at the time, there was just no way that we could have like, left them, there was no one to leave them with and all of that kind of business, if we didn't have the dogs absolutely 100%. As soon as we were able would have got a flight with the kids out and just do what you did and say, Hey, you know what, our bills are paid. We've got money coming in, I could still work. There's nothing stopping me from working like you say, as long as you've got an internet connection, and you've got your resources with you that you need, and they're online and accessible, then why not? Why not?
Dawn Baxter 
I kind of I did it. And I proved it to myself, it was possible.
Dani Wallace 
Remember that time I just went to chilled out in Spain for a little while, during lockdown.  You didn't chill out because you worked the entire time. 
Dawn Baxter 
I worked the entire time, the entire time, we had a massive project that was part of an amazing course, where we bonus and where we kind of, we support. So we, you know, we were working the entire time, the entire agency was fully booked. And I had to go buy a Spanish laptop. And if you'd have seen me on day one with that Spanish laptop, you would not have thought that it was a good experience or that I was in paradise. You know, we spent a lot of money on tech, because I didn't take my laptop because if I take my laptop on holiday, the urge to work is too strong. 
Dani Wallace 
There would not, and this is because the work doesn't feel like work. So you can't help yourself sometimes I think and then, you know, especially our partners, I don't know if yours is the same Dawn he will look at you. How are you working and I'm like but I love it.  
Dawn Baxter 
I can't stay away from it for any longer. Yeah, Like, I could sit on a beach, and write, or I could I could do anything like that so put me in a situation where there's palm trees, and, you know, a free bar, and my laptop, I'm in trouble, I can't, you're not going to be able to tear away from that situation. So yeah, I didn't take it or I think what's wonderful about that is it's just, again, a really good example, I guess, of how we've changed our entire existence based on how we wanted to live, how, how we wanted to work, how we wanted to make use of the expertise and the skills and whatever training we've taken or whatever things that we've learned through our lives, and actually lean into that rather than fighting against, I spent a long time trying to fit in other people's boxes. And now we're at this situation where actually, I hate using the word authentic, because it's kind of become one of those buzzwords, but there's no better word that we actually authentically allowed ourselves to be who we truly are.
Dani Wallace 
Yeah, absolutely. I've become unemployable. Absolutely, categorically unemployable. Like, if I look now, who I am now as a person as a potential employee, and I remember who I was, when I was working, I had some fantastic jobs with some global companies like Carphone Warehouse, Jaguar Landrover, some really great companies.  I remember the time, being creative, coming up with solutions, trying to implement them, so much red tape, no, this is the way things have always been done, we will put a proposal after proposal to try and you know, better the lives and the service that we will provide it to the people that work for us, we weren't allowed to deliver them. And it was like this, whereas now, I get to service as my community in exactly the way that they need. I get to choose how I do that at any given point. And I, you know, and I don't get dismissed, I either sell it, or I don't sell it depending on where I was when I was there I remember being so bound up and tied up by what I had to do, because you know, someone else was steering the boat, well you know, I'm steering the boat now. So that means that any creativity that I allow for myself, anything that I create, is I get to put out there no one tells me no now. 
Dawn Baxter 
Yeah,I love that. One of the first things. My first business was called Pretty Home Prints. And I don't know if you know this about me, but it was home decor and T shirts and merch and things. And one of the first t shirts I made, it just had a little emblem on the left hand side, really quite demure, and it just said they told me no. And that for me was a powerful statement of actually, you cannot hold me back. And I didn't realize that at the time. I actually was walking around saying hold me back, hold me back, give me that promotion and I'll fit that box. I'll be that person. I'll be that chameleon. Oh, I will change myself to fit into what you need. And you're totally right. unemployable is right.  I just don't think…
Dani Wallace 
I will  fit your assessment criteria. I will mould myself in that moment to fit your assessment criteria, instead of being your own criteria like here are the things that I'm offering you take me. Like here's what I'm gonna give to you and I think that is the, the thing that I think that's why when people move out into the entrepreneurial space, they, they almost second guess themselves because you're having to behave differently. Instead of saying how all I've got to fit the criteria and all of a sudden the criteria's be taken away from you. So then you're like oh woah. So who, who am I then who do I have to be in this space and I think that's the very beginning of an entrepreneurial journey that's the bit, that's the tap dance that you've got to do, you've got to work that stuff out, and that's the stuff that I help people with within their speaking. I help people speak about their mission and their business. I help people speak about who it is that they are and why they care so that they can share with people what their criteria is to be a client for them instead of them fitting a criteria for whoever it is, there's got space for them.
Dawn Baxter 
Yes. And what's wonderful about the work that you do is that you recognize that energy within somebody, and you pull on those threads so that they, I know that people have worked with you, and had complete epiphanies over who they actually are and what they actually want to do. Because it's almost like we lock that away somewhere safe, and don't want to put ourselves out there for fear of rejection or, you know, we all love imposter syndrome, and we all we all deal with that at some point, and we get scared of actually being visible and putting our real selves out there, whether that's to do with previous traumas or whether it's to do with, you know those fears of rejection but you're really good at recognizing somebody's kind of internal potential, and giving them that safe space that wonderful place where they can actually step into that  person, step into the person that they were probably always going to be, but might have held themselves back had they not have met you and had that great experience, right.
Dani Wallace 
That is honestly one of the most beautiful things somebody said to me because that actually is what I want to do for people. So the fact that I know you know people that I've worked with, and well I know people that I've worked with, I've worked with them, but to see that journey, because when people come and see me, they go, Oh, you know, I want to construct a TEDX, or you know, I want to do a talk, actually, when you're working on the articulation of what it is that you're doing, when you're working with words, when you're working with how to externally express all of that stuff that you've got inside you,  I have to be able to see that I've got that's the bit that's the magic is as part of that process is for that person to come to me and say, Hey, here's the change that I want to be in the world and for me to say, what do you need permission that because you can, right, okay, so you know, you've got permission, let's get some work done. Is that permission is that for somebody to say, Hey, I see it, too. Let's paint the picture together, then, let's, let's help everybody else, believe it just as much as I believe in you. As much as you believe in yourself. Let's help other people believe it by painting the pictures. And that's what the work is. That's really what the work is. And, and I see this time and time again, with all of my clients, you know, my stages of Being Inspired, which the event that I run, it's just brilliant to see those people that have come through things like the masterminds, that I run,  stand on that stage, and just say, Hey, now I've arrived, it's like their coming out party. and they just stepping into their life, whatever it is they're hanging their hat on and I'm lucky I get to work with everybody from dog trainers to celebrities and everybody in between it's crackers. The spread of people and the variety of people from people starting out in business all the way to multiple seven figure earners I'm so, so lucky. But each time I see them walk out onto the stage with something that they've constructed in our time working together, they're really putting their flag in the floor, and to see them just open up in that space to say hey I've arrived. And that's why I do what I do.
Dawn Baxter 
I know I love it, I love it. And you have this wonderful infectious energy that I feel like you just kind of lift everybody around you, which I think is so vital to that kind of work. And you said something really interesting there, like people come to you because they want to do a TED talk, or they want to be more confident speaking live on Facebook and Instagram or whatever it is that they initially come to you for. It might not actually be what they come away with. And that is the exact same thing for me like people come and me and they're like Dawnie what do I  post on Facebook. That's never what we end up covering, it's never what we ended up covering, because actually the things that you should be posting on Facebook, you actually can't get to that stage where you're communicating effectively with the right people. Your dream clients are the people who are your people. Unless you actually understand all the stuff you don't know you don't know yet. So we have to go right from the bottom. And we talk about and don't get me wrong, like there is tech and there is strategy. And there's all this wonderful world of, you know, psychological selling and all of those things that I just love to kind of like pull on and but truthfully is a very similar thing is actually about figuring out what it is that we actually have here and this is why, it always leads so nicely into the branding side with the agency because the brand awareness, the brand voice is actually totally crucial, crucial to everything else. And then it just pulls on all of those really good threads for you to find out actually what it is we're trying to achieve here. But one of the things that I think is probably most noticeable for yourself and that energy and your clients and what I really love because I've created my own kind of mini ecosystem of my own in a similar way, is your communities.
Dani Wallace 
 Oh man.  I know, your community works in a similar way there's mutual affection and appreciation for each of our communities. Because you do attract the people that you are like so you know, I show up every single day in kindness, in love, in respect, in wanting to lift other people. People see that in me and are therefore attracted to me. And I have the IATQB hive, which is my community, my group on Facebook, but actually bigger than that. Everybody who I come across isn't just my free Facebook group, you know where I sell stuff, it isn't that.  It's everybody who I come across is sort of gathered or into whoever it is, I'm connected with it. You know, whoever sits in my little black box. They're all members of the IATQB community of the hive or hive mind. And there's this thing that bees do Dawnie,  I love it. It's called festooning and when they're building. 
Dawn Baxter
I've heard of this, i've been part of a festoon before.  
Dani Wallace
They did this thing when they're building something new they link arms to show the other bees where to build to, and I think that's a beautiful concept that we are stronger we all do well when we all do well, you know, and nobody gets left behind and if we celebrate our successes and we celebrate our challenges and that's what the network is all about, isn't necessarily about selling to each other, selling happens by default. Selling happens when you build a relationship with somebody and then you tell them about what it is they do and they believe you,  when they love you,  when they trust you, they'll buy from you that's just a byproduct. But actually, the share successes and sharing challenges really humanizes you and when you have a safe space in which to do that, magic happens because that's when you have the people that have moved a little bit further along like I was saying before, like the success leaving clues reaches a hand that says, hey, have you met this person, this person is really cool for you to connect with, or, you know, if you're celebrating a success for example, yesterday Dawnie I was in Forbes. 
Dawn Baxter 
Yeah,I saw, I saw on Facebook.  I know, and I'm, you know I love it, I love it. I will think it's one of those things like just what we were saying earlier that I look at that. And I'm just like, Well, yeah, of course Dani's in Forbes, but you were like I'm in Forbes! 
Dani Wallace 
I'm in Forbes, but not only that is for the most utterly ridiculous thing. So, it's not even necessary I'm not going round, wearing 'Oh I'm featured in Forbes'.  I still care and it was for sharing a bit of information about, like, overcoming distractions or the fact that I wear these absolutely ridiculous industrial builders Ear Defenders when I'm trying to write something because I'm auditory I'm a singer. So music is really sort of distracting for me because, you'll know, you're a singer yourself.  So I am distracted by noise because I'm looking for the rhythm in there. I'm looking for the words I'm listening to the words. So I can't have music playing whilst I've got these ear defenders. And this journalist who picked it up was talking about distractions at work, and especially if you're homeschooling that talking about bloody ear defenders. That's how I'm in Forbes Magazine.  So even though there are a million other things that could bein Forbes for the first time I'm in there is because I wear ridiculous ear defenders. So sharing that I mean, it's a huge success, however we look at it just to be featured.
Massive success.  I mean, that's the kind of thing that I think is just so wonderful about you as well, because you have this, you have this amazing success and you're in Forbes, and you're like oh, I've just been there for ear defenders and like that's what part of the, the joy of being around you and knowing you, because of course you're in Forbes for defenders we wouldn't expect anything less.  Well, I mean, I think it's just you're so relatable and down to earth and like, I know, we are surrounded by a really good community of entrepreneurial women, but actually there's a flip side of this. And I was talking to our mutual friend Tom about this, a week or so ago about actually, you take one step outside of your safe houses, those communities, and those networks that you've become accustomed to. And actually, not everybody's experience of being online and being on socials or anything like that, especially during this past 12 months while things have been super difficult for people, it's actually not that way. And because we are almost in these highly cultivated and really safe, I call them internet safe houses. They are, we actually don't see it. It's like stepping out, do you remember in Beetlejuice when they step out the house and it's like the sand worms. Yeah, it's the big snake thing that's like we were safe in the house and then as soon as we come out of our, our communities. Yeah, you know, I think that's, that's, it's one of the things that I always think is just so wonderful about the work that you do with your communities. And I know you have multiple ways in which you connect, you have a book, you have your events, your speaking events, you have multiple services that are I know, you have one to one stuff, but you also have these great group programs that actually connect people together at the same time, as learning through you,  masterminds or collaborations with other powerhouses. And actually, you've got lots and lots of different ways that you connect to your hive to your, you know, people which I think is just so wonderful. 
Dani Wallace 
And I'm lucky well not lucky, lucky isn't the right word. So you know, it's very easy, constructed intentionally. So there are ways that people can access me that are free, that costs absolutely nothing. And there are ways that, you know, like I say, I do I work with multimillionaires, I've worked with, you know, with entrepreneurs, I work with celebrities, I work with people within the media, and they want to work with me in a different way. So to have a suite of services that really hit all of those different demographics, I think is I'm very grateful that I have that capacity that I have the ability to work with people, whether it's, you know, within those bigger events, which I absolutely love, andI can't wait to do, or if it's in those you know, really super, you know, VIP situation, one to ones where we'll get off somewhere like Italy, when we're able to hole ourselves up and create for a few days together and have those experiences.  
Dawn Baxter 
That sounds wonderful.  I mean I saw you do that, was it last year, in the space.  
Dani Wallace 

It was yeah, it was in October, when again, when the corridor was open for a brief amount of time, we were very quick.  Smah and grab into Italy and out again. But yeah, having those VIP experiences as well as just like really broad suite of services that really look after all of my audience, because, you know, we were talking in, in business about niche about, you know, speak specifically to one person, I'm like, no, no I won't.  I speak specifically to one person because there are more people than one type of person needs to choose to fly anyway. So what happens is, I have become my niche. So, it's, it's the essence of what being the queen bee is all about is that reclamation of success, abundance, wealth, happiness, health, all of those things, love all of them, all of those things that, you know, if you're not really born into it we have to be a little bit more tenacious about going to find it, that's not just for one person that's for more people than want to have you know I'm not speaking to 35 year old single parents or you know I'm not talking to like the world man, like come and get amongst this phase.
Dawn Baxter 
 I know, and I love that, and I love how inclusive you are. And I'm obviously a part of your group, because I'm a big fan. And I'm in the midst of them all and they are incredibly supportive communities. And I do find myself in my, I have my FREE group, The Social Pretties and so many people have told me you need to change the name of the group. It makes no sense, it makes sense to me and it makes sense to my people, it's never getting changed. That's the name.  They are so, I mean this was actually an early concept that I adopted when we had pretty home prints, and you know we started off the branding agency, it was pretty branding, and it was pretty everything, and it slowly but surely became a thing where we had returning clients or people who were in our network that just called themselves like your pretties. And then of course, I love that, from Wizard of Oz, although I'm not a wicked witch I promise you, I love that fly my pretties, fly.  That's like my whole thing. And that was when we were selling prints that wasn't even when we were in this space. Yeah, we were just we had that even then which was just wonderful. But they are there. They're an incredibly warm and inclusive bunch of people. I am very pink and girly, you know that. So I do tend to attract the females. And I'm okay with that, because I exclusively work with females. And I think whenever I, whenever I've been previously counseled to remove Social Pretties from my business structure, because it takes a lot of energy, it takes a lot of my time. And I hang out in there quite often.
Dani Wallace 
It's your safe space as well, my community is my safe space, I'm not – to rock up into my hive with a bottle of wine sometimes on a Sunday and just drink the wine and talk to people like I'm not giving any value I'm just turning up. I can like all of the verbal diarrhoea, all of my thoughts from the weekend, they are not censored. I don't censor what it is that I'm thinking or feeling or whatever and I think that's important.
Dawn Baxter
And yeah, and I love them. And you can't ever cut for me, you couldn't cut that out, you can look at my my whole enterprise, if you will. And you could look at it from a purely business perspective, and you could easily cut my heart out of it by looking at it through that lens. So Social Pretties is never going anywhere. It's like it's part of me, it needs to stay. And then of course, we have pro members, which is my membership, my actual pro membership, where there's training, and there's a lot more in there. But again, it's just all it is is Social Pretties, and you know, in a much more focused arena, they're still the same vibes it's still the same energy. It's just that we actually get quite a lot of stuff done in there, we keep each other accountable. And there's a lot of traction occurring, you know, that kind of thing. But I don't know what I would do without first of all, I don't know what I would have done without finding Lisa Johnson. Lisa deserves a mention because when I came across Lisa, she was probably the first person that I'd come across on the internet, that made me feel like there was the possibility to do what I've been thinking I wanted to do, because actually started my membership. Most people don't know this about me, I actually started my membership before I met Lisa. You know, she put a completely different idea of it in my head. And I remember looking here and thinking, actually, I think this is possible things are possible. And then through Lisa and meeting other people. And I think that's how you and I came into contact through that circle and network, which is so strange, because we literally live 20 minutes.
Dani Wallace 
Less than, like 10-15 minutes away, like down the road. That's how close we are. So we only met by being in this and again, like Lisa Johnson has been massively pivotal in, in my business growth and everything that's happened and I attribute a lot of my sort of trajectory to her and learning from her. So to be able to provide friends like you as well, like just around the corner, like we're allowed to walk in pairs. Now as far as we need to go and walk along the beach.  We're allowed.  There's no need to be clandestine because we're allowed.  
Dawn Baxter 
We're allowed.  I know, and I look forward to that I'd love to do that.  And I think it's the relationships that I've built with my clients and with my, with my peers. During this time, though, I can't ever go back. I've built friendships, and I do have a pure love for you all, I couldn't go back.
Dani Wallace 
We become a business family. And I think this is well worth for anybody that's listening, your immediate family will often if you are moving into the entrepreneurial space or owning your own business, your immediate family may find it difficult to understand what it is that you've got to do and the sacrifices that you've got to make. Sometimes your business family will only understand that, like the hours that we work sometimes when we're pushing the station to record trying to get everything moving. You know, I remember my mom would say, Are you doing too much? I'm like no mum I'm not doing enough like there are things that I have to do right now. And you've got to keep your eyes on the prize. And by surrounding yourself with the people that are working in the same way as you they get it they like and they get to call you out on your bs as well. So I know like you, for example, you could tell you have this like intuitive way of knowing when things might not be Tip Top in Dani-land. And I get a little message saying hey, you need to like take your foot off the gas a little minute, give yourself a breathing space. Have you thought about yourself today? Have you instead of like your family might say hey stop. They also know that you can't stop, you can't. When you're moving in that direction but also just to remind you that your self care is important. Having those people that are looking in the same way that know that self care looks a little bit different when you're an entrepreneur than it does when you're in the muggle world.
Dawn Baxter 
That's it. Yeah. It's completely different. And I think the self-care thing is something that I've really struggled with because I am I the foot down full going or I'm not and I find it really, really hard to like even just to stop and make myself a brew. Occasionally,  I find that so difficult because the idea of having to walk away from the computer when there's still work to be done, there's still people to be helped. And I completely immerse myself in my clients. And, you know, I need to do that for this person. And that's bigger than me. So I'm going to sit here, and I'm going to do it until it's done. And I've made it very, very open that, although I work a smaller amount of hours now, and I have achieved that now, in year one, you could see me and even actually, if I'm being honest, a couple of times, whilst I've up levelled the agency, because we hit capacity, we hit capacity like a mofo, every said, 
Dani Wallace
You did, you just exploded!
Dawn Baxter
Oh, it's mad. And it's wonderful. I'm not complaining. Like, I'm so grateful for it. But every, every single time I hit that level, where actually we need to uplevel again, we need to grow again. And we often that requires a full business change in terms of structure. 
Dani Wallace 
It's like a snake shedding its skin. Like every time it gets big, it has to shed its skin. And there is this point before that happens, where it becomes uncomfortable, in order for that to happen. So you've got to like push yourself to a level of discomfort in order for you to grow to that next stage, like a caterpillar, breaking out of his chrysalis becoming a butterfly, but doing it time and time and time again.  You've got to be really comfortable getting uncomfortable yeah?  .
Dawn Baxter 
Yeah, yeah. And I think the first time I went through that I didn't know, I didn't truly know what was happening. I spent a January and I've spoken quite openly with my Pretties about this. Previously, I spent a January in tears. And I was just working all of the time, and there was nothing really wrong, everything was okay. And I felt a bit stretched in terms of like, what my focus should be on, we had a lot of onboarding calls. And I always found onboarding, probably one of the hardest parts of business. And everybody wanted a piece of me. I had a Britney Spears moment, everybody wanted a piece of me. And I just spent all of January, kind of like when I wasn't on calls, when I wasn't on. I was and I was just processing and processing, and then in February, we had a 20 grand month. And that was probably the first time that we'd had that, we'd had great months before or had everything well, I think it was like by the 10th of that month, we'd hit this massive marker and I was like, Okay, 
Dani Wallace 
We're getting there. 
Dawn Baxter
Now this is what yeah, it was almost like grieving. That like, okay, so you've got to this level of business. Now you need to grieve because that's gone. Yes. So you're moving into this next set. So you're gonna cry for a bit, you're going to process it and your emotions are going to be all over the place. Because you are will no longer be that person anymore. That person that you wanted to step into, that you've envisioned, which is actually just on the other side of this of this month marker. So have a good cry, get it out of your system. Next month. You have to be her.
Dani Wallace 
Yeah. Cool. Yes. Exactly. That exactly that. And when you allow yourself into that space, that because you in that moment, doesn't know success is safe, because it hasn't experienced that level of success yet. Yeah. And that's the thing that we can training ourselves all the time that this level of success is safe, this level of success is safe, okay? When you when you find the safety there, what's the next level and it isn't about sort of seeking overseeking that next level of success? But actually, when you're growing into it when your expansion takes you there is there is this process that everybody goes to nobody I know that doesn't go through it Dawnie. Where they get really uncomfortable to get comfortable really comfortable it's the dark just comes just before the dawn.  Pardon the pun.  
Dawn Baxter
Everyone says that to me.  Yes it's always darkest before the Dawn.  Yes. 
Dani Wallace
Just be allowing yourself to say to yourself, success is safe. And that's often why we will sabotage ourselves.  The reason why I wrote the book that I've written and then and I'm so gobsmacked by how well this book has done.
Dawn Baxter 
Gosh, I love your books. My daughter loves your book, I think I told you my daughter read it, I mean it's not appropriate for her age group. And I found that she is sneaky,  she's a bit of a rebel, this one 11 years old and she'd sneaked it from in the bathroom. To be fair, I'd been reading it in the bath. And she just snuck it it. She read the whole thing cover to cover. And then came to me was like I love this book. And I love this woman. I was like well, actually, this woman is ace but she's actually mommy's friend you don't know how much kudos that gave me for like a week!  I was so cool!  
Dani Wallace 
It's interesting that that book did so well because I think it spoke to lots of people I mean it's called I am The Queen Bee, how I overcame success, how I overcame self-sabotage to fly anyway and it's about the things that we do, when success becomes unsafe for us, when the next level becomes unsafe and often what we do is we will often subconsciously, get in our own way we might always get ill when it comes to leveling, we might become really emotional, we might fight it, we might, you know, stop picking fights. If we're talking about success in relationships, we might start to pick fights in our relationships because a successful relationship has never been safe for us,  we've never experienced it so we don't know what that looks like so we start to sabotage these things. So I think that, you know, understanding that when that success is coming, we will do things that will show resistance because we don't know what we don't really know what the other side looks like so it's got to be that mantra, success is safe success is safe and get that plastered up everywhere.
Dawn Baxter 
Yeah, and get to that stage where you actually, you're giving yourself permission to step into it and feel it and test it out before you've already disregarded it. Yeah. What's really fun for us is that we you know we want it, we visualize it, we decide we're going to go get it and we're the type that when we make that decision that actually is nothing really in our way, because anything that is a block, we know, even if we don't overcome it today, it's going to be overcome, at some point and if there's something stopping us from overcoming it, then we bridge that gap we fill those gaps.
Dani Wallace 
Yeah and it tends to be behind the eyes in between the ears that stopping us you don't even have to jump that far.
Dawn Baxter 
Yeah, you can find that at home for sure.  What I've always loved about the work that you do is, well, is you have these multi-dimensional types of programs, and you've got a massive, massive event coming up in April as well haven't you?
Dani Wallace
Oh Dawnie, Oh have i?  Do you know when we were saying about growth, and when you're reaching those next levels, like my team know that when I get when I go work, it means. It means something bigs happening. And we had one of those moments. A couple of months back, so I have a mastermind that I run every year or twice a year where I teach speakers how to take to the stage and then we also create an event together that creates them the assets.  So it's great it's dualfold; one by community get to be in a room with us all and we get to celebrate our successes and network, do all those cool things. Also my speakers get to take to the stage and like we were saying before really putting their flag in, they get to arrive is and this is my message. This is what it is that I want to say to the world. So we were meant to do this in real life, not in September. In September, but also again in February time normally that's what Be Inspired happens, but obviously, because of the COVID situation, that wasn't able to go ahead and that got me thinking like how do I make this happen.
Dani Wallace 
So what I've done is, Dawnie because I don't do things by halves.  
Dawn Baxter
No you don't, you don't do things by halves. You do them right on.
Dani Wallace
I have hired a TV studio to take my speakers to so that we can broadcasts, so that instead and there's  been lots of summits that have been going on lots of kind of zoom things that have been happening and what have you over the past 12 months, and I always feel like it's just lacking a bit of something like, I come from a speaking background it's edutainment like I want to be entertained as well as educated. So what we've done is we've taken everyone we're taking everybody on the 22nd and 23rd of April, to a TV studio to broadcast it, so it's all on Zoom it's all online for people to access it, but for two full days I've got 22 incredible speakers who are going to be talking about all manner of things business, life, spirituality, parenting, sales, Branding like you name it, they're gonna speak about it over the course of two days. And as well, all of the speakers have put like goodies and extra freebies into like a members area for all of our ticket holders. So yeah, They all those tickets are now on sale. But we're not just doing that we're also raising money for the Fly Anyway Foundation, which is my charitable foundation that I've created for survivors of domestic abuse. So really, really exciting.
Dawn Baxter 
That's so exciting. And I guess even for your speakers, that's that's like a new concept. They're going to they're going to be on the telly, they're going to be in a proper professional broadcasting studio, I mean that that's something that you've put under your belt that experience in itself is just a wonderful thing. And that's without even considering how valuable this whole event is going to be for the people who are there watching and buying tickets in that member area.
Dani Wallace 
Everything that I do what you said at the beginning, everything I do is multifaceted. It is never just with the intention of earning money and I think that's why the things that I do, do well.  Because it benefits everybody involved. It benefits the speakers. It benefits my team, it benefits the people that are watching at home I've got they're getting so much value and incredible stuff that they can revisit again and again and again and again and again. And as well, they get an opportunity to make money off of the event by becoming an affiliate, and they, if they if they buy a ticket they can become an affiliate and they get 25 pounds for every ticket that they sell, they get an opportunity to coach with me if they if they sell the most tickets. There's so many ways, it benefits everybody involved and that is I think one of the reasons why IATQB does so well, it's because the thought is around everybody, everything is for the benefit of everybody not just the person running it, not just me. And that's why I love it. That's why I like to roll the covers back in my bed every morning and I can't wait to get in the office.
Dawn Baxter 
I've got to be honest with you today Dani. As a woman called Dawn I'd never throw the covers back like that!  Like you could leave me in bed all day.  But no, I think one of the things that that really resonates with me is I have that same vision of my my flex is how many people I can positively impact that's like, and those people that aren't always direct. And that's the same with you, all of these things you put out there for the people. It's not just for the direct people who buy tickets there will be so many people outside of that that are within those communities of people that will benefit from these messages from the value. And it's like a ripple effect. It just goes out and we all have this you know, Miss America idea of world peace, right? That's what we'll want we actually have the opportunity to make our corner of the world a better place by acknowledging our voice and acknowledging that power. And I won't get into the Megan and Harry situation. But I mean, you know, we, we have that. And it's something that I think we are incredibly grateful for just so happy to have.
Dani Wallace 
When you realize the power that you have as one person and I don't mean ha, ha, ha power.  It's actually people sit there in their home to go I can't do anything about this situation. So I'm a survivor of domestic abuse, I'm a survivor of homelessness, and it was always my intention that whenever I achieved any level of success that I would create something that was going to assist in one way, shape or form and the Fly Anyway Foundation is something that we've created off the back I say we have created off the back of everything that I've been doing it was always the vision, and that's going to help survivors of domestic abuse, create independence for themselves by developing businesses, there's lots of other sort of triage type services out there, but what about afterwards what about after when that's the change like you think I could have sat and gone yeah well I'll create successful business that's absolutely fine but the change that I want to see in the world is even, as many people I come across as possible, realize they get to choose to Fly Anyway the bees don't care what humans think is impossible, they just fly anyway. The more people that get that we all do well when we all do well, people start to wake up to the fact that it is in our hands that our actions and our reactions will dictate our outcomes, every single time, even when we thrown the biggest of curveballs.
Dawn Baxter 
I love that. I love that.  Well I'm gonna leave it there who that's a perfect time for us to cut off but Dani just tell everybody where can they find you? Where can they buy tickets to your event? Where should they go now to get more of Dani Wallace.
Dani Wallace 
So they need to go to Instagram is where they need to go to the reason they need to go to Instagram is that we are currently doing operations swipe up every morning at 9:30 of the Queen Bee page on Facebook. I have my show. The Rise Up Show, where I share, you've been on the show haven't you Dawnie.  She'll be coming on the show again in the not too distant future to come and share everything you've been doing since we last spoke. But what I what I want to do my like what I really want to do with my Instagram is for when people come on the show to share their inspirational stories, their fabulous businesses is for me in my stories to be able to say hey, my girl Dawnie's been on the show this morning, swipe up and you can go and see her they can't do that without 10,000 followers. So we're on operation swipe up on Instagram at the Queen Bee Dani all the way across the socials. You can catch the show on at the Queen Bee Dani on Facebook, go to Instagram, follow me at the Queen Bee Dani  on Instagram, and you'll be able to get a ticket to Be Inspired. Either if DM me or Dawnie or if you go to my link tree on Instagram, the link will be on there.
Dawn Baxter 
That's wonderful. So we're on it now Pretties. The 10k swipe up while we're on it, we have to go and help the Queen Bee get to her 10K so that she can do that wonderful swipe up and it is such a wonderful TV, I know you say it's like a little TV show, but we love it. And we've watched all the time. And I think what you actually did was you've created this kind of concept. Everybody has the opportunity to get out there and be visible and I love that and it's such a, such a valuable show, you get to have the best of your you know your guests and you network with these amazing people and it just, it creates more community, it creates more of everything that we've spoken about today, we just love it so thank you so much for coming and being on my first ever podcast it's been so good.
Dani Wallace 
Dawnie, I love you. I'm so proud of you. Thank you for having me. I cannot wait to see you and give you a squish hug in real life when it is permittable!
Dawn Baxter 
Yes me too I can't wait.  Thank you Darling.